Pablo Living Residences - Ready For Occupancy Townhouse
Premium project of Calma Properties in San Dionisio Paranaque Metro Manila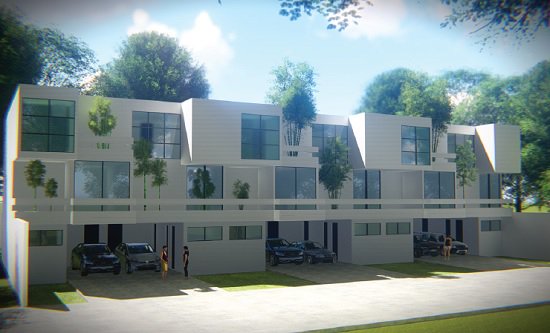 Project Type : Townhouse
Listing Type : Ready For Occupancy
Developer Name : Calma Properties
Units : Townhouse
Price: ₱ 11,287,217 & Up
Address : San Dionisio, Parañaque City
Location : Paranaque , Metro Manila PH Pablo Living Residences Calma Properties Pablo Living Residences Pablo Living Residences Calma Properties Pablo Living Residences Paranaque
https://pablolivingresidences.phproperty.com
The Pablo + Living Residences Parañaque is the urban home of the future. Designed and created by the innovative team of Calma Properties, Inc., this 3-story 6-unit townhouse project has one of the most advanced home designs in the industry without the high price tag. Unlike other townhouse developments across Metro Manila, Pablo + Living Residences is definitely a living art in progress. This residential development is designed to bring the utmost privacy and exclusivity to the choosiest homeowners who seek more space and convenience in an urban setting.

The Pablo + Living Residences connote a sanctuary right in the middle of the metropolis. The townhouses are provided, not just with ample spaces for living, dining, and kitchen areas, but also breathing spaces for a landscaping spot, an air well, a spacious service area, a planter, and a concrete driveway for your car. The project's designers and builders are some of the Philippines most respected developers who are all masters of their craft. Each townhouse is built with a design that let fresh air and natural light penetrate every nook and cranny of the property to provide efficient ventilation and absorption of sunlight.

The Pablo + Living Residences' is an ensemble of a team of expert builders which count Carlo Calma Consultancy firm who executed the Architecture & Interior Design, Structural Engineers & Quantity Surveyor by the Multi Development & Construction Corporation (MDCC), and MEPF (Mechanical, Electrical, Plumbing, Fire) designs by A.D. Sabarillo, Jr., Inc., and Feng Shui expert Angel Macalinao. With a team as efficient as this one; plus the added support of Calma properties, Inc., Pablo + Living Residences Parañaque is definitely the home of the future!
Pablo Living Residences Calma Properties For Sale Price List

| Unit Name | Project Name | Developer | Price (₱) | Location |
| --- | --- | --- | --- | --- |
| Unit 2 | Pablo Living Residences | Calma Properties | 11,287,217 | San Dionisio in Paranaque, Metro Manila |
| Unit 1 | Pablo Living Residences | Calma Properties | 11,435,343 | San Dionisio in Paranaque, Metro Manila |
| Unit 4 | Pablo Living Residences | Calma Properties | 11,561,129 | San Dionisio in Paranaque, Metro Manila |
| Unit 3 | Pablo Living Residences | Calma Properties | 11,712,655 | San Dionisio in Paranaque, Metro Manila |
| Unit 6 | Pablo Living Residences | Calma Properties | 11,846,697 | San Dionisio in Paranaque, Metro Manila |
| Unit 5 | Pablo Living Residences | Calma Properties | 11,997,737 | San Dionisio in Paranaque, Metro Manila |