Sta.Rosa Garden Villas III Phase 8 - Preselling House & Lot
Premium project of DDC Land in Caingin Santa Rosa Laguna
Sta.Rosa Garden Villas III Phase 8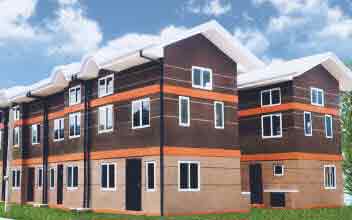 Project Type : House & Lot
Listing Type : Preselling
Developer Name : DDC Land
Units : House & Lot
Price: ₱ 800,000 & Up
Address : Brgy. Caingin,
Location : Santa Rosa , Laguna PH Sta.Rosa Garden Villas III Phase 8 DDC Land Sta.Rosa Garden Villas III Phase 8 Sta.Rosa Garden Villas III Phase 8 DDC Land Sta.Rosa Garden Villas III Phase 8 Santa Rosa
https://starosagardenvillas8.buyddc.com
DDC Land continues its legacy of building quality homes, along with its durability and beauty, just like the Sta. Rosa Garden Villas III Phase 8. From foundation up to its roof, Phase 8 of the Garden Villas is tougher than anything else and its perpetual beauty is timeless. The project still bear the company's signature house models in more resilient and sturdy form. This phase is part of the 6 Phases of the Villas' quality offering of standalone community that cater mostly to common Filipinos adhering to flexible yet durable homes that could withstand the test of time albeit with all its affordability.
Garden Villas III Phase 8 is a 1,068 residential units offering that started construction early 2015, after the successful bid of Phases 1& 2 resulting in total sold out of the initial units. The project is located in Brgy. Caingin, Sta. Rosa City, Laguna. The sprawling village is offering the beautifully crafted Susana (Townhouse), Sergia (Quadruplex) and the Sophia (Duplex) house models in contemporary modern designs. Highlighting the strength in every detail in construction, the houses are built to last for generations as the company believes that pouring in a significant amount of money into your home needs to be worthy of investment.
The project also prioritizes its client's preference of proximity to all of the basic needs of a family such as education, food, clothing, entertainment, financing and other necessities, which is why the Garden Villas is situated near from all of these establishments. The project is easily accessible from Metro Manila via SLEX and the Biñan- Sta. Rosa Access Road. From further south (Bicol, San Pablo City and other Southern Tagalog cities and towns), the city is accessible via Turbina- Calamba- Cabuyao route.
Popular Links
Sta.Rosa Garden Villas III Phase 8
Sta.Rosa Garden Villas III Phase 8 Location
Sta.Rosa Garden Villas III Phase 8 For Rental Units
Sta.Rosa Garden Villas III Phase 8 Resale Units
Sta.Rosa Garden Villas III Phase 8 Pre-Selling Units
Sta.Rosa Garden Villas III Phase 8 Showroom
Sta.Rosa Garden Villas III Phase 8 Amenities
Sta.Rosa Garden Villas III Phase 8 Price
Sta.Rosa Garden Villas III Phase 8 Contact