Metro Manila Hills: Theresa Heights - Preselling House & Lot
Premium project of New San Jose Builders in San Jose Rodriguez Rizal
Metro Manila Hills: Theresa Heights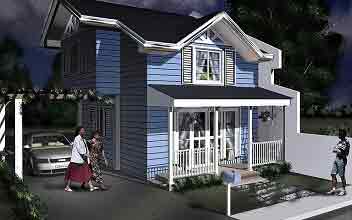 Project Type : House & Lot
Listing Type : Preselling
Developer Name : New San Jose Builders
Units : House & Lot 2 BR, 3 BR
Price: ₱ 1,745,270 & Up
Address : MMH Communities
Location : Rodriguez , Rizal PH Metro Manila Hills: Theresa Heights New San Jose Builders Metro Manila Hills: Theresa Heights Metro Manila Hills: Theresa Heights New San Jose Builders Metro Manila Hills: Theresa Heights Rodriguez
https://theresaheights.nsjbuilders.com
Enjoy the elegance and modernity of Metro Manila but away from its maddening crowd and congested streets, succumb to the Metro Manila Hills: Theresa Heights' classic Old South American inspired architecture with a modern twist and functional design homes. Houses have wide front porch really similar to this classic design. Theresa Heights is owned and built by New San Jose Builders, Inc. (NSJBI), a pioneer in quality and affordable housing across the land. This house and lot residential development is at the northernmost of Rizal province, where people is one of the friendliest neighborhoods and the place is teeming with nature's bounties such as lush greens and hilly terrain that breeze life with the freshest air and the coolest environment north of Manila.
Theresa Heights is a true paradise of an enclave. The project is found along Mayon Ave. Extension, Rodriguez (formerly Montalban) , Rizal, one of the richest and largest (in terms of population and area) municipalities in the Philippines.The site is near (less than 800 meters) the forest of Quezon City's La Mesa Watershed and Protected Areas. The house units that come with Metro Manila Hills are typically 2-storey Townhouse and Townhouse combined and 2-storey Single Detached configurations in Old South American style design which is unique from any other house designs in the country.
Metro Manila Hills: Theresa Heights is far from being flooded and harsh typhoon strike is very remote because the site lies near the slopes of a mountain range that protects everything from the typhoon path. The site's proximity to Metro Manila (especially Quezon City and North Caloocan) gives every resident great opportunities to explore and be employed or conduct business easily within the metropolis, a terrific location, indeed! Additionally, the town of Rodriguez, on its own has major establishments, such as shopping centers, churches, schools, workplaces, hospitals, cinemas, retail shops, convenience stores, repair shops, resorts and restaurants and other major destinations, lying close to the project.
Popular Links
Metro Manila Hills: Theresa Heights
Metro Manila Hills: Theresa Heights Location
Metro Manila Hills: Theresa Heights For Rental Units
Metro Manila Hills: Theresa Heights Resale Units
Metro Manila Hills: Theresa Heights Pre-Selling Units
Metro Manila Hills: Theresa Heights Showroom
Metro Manila Hills: Theresa Heights Amenities
Metro Manila Hills: Theresa Heights Price
Metro Manila Hills: Theresa Heights Contact
Metro Manila Hills: Theresa Heights New San Jose Builders For Sale Price List

| Unit Name | Project Name | Developer | Price (₱) | Location |
| --- | --- | --- | --- | --- |
| Townhouse | Metro Manila Hills: Theresa Heights | New San Jose Builders | 1,745,270 | Rodriguez, Rizal |
| Single Detached | Metro Manila Hills: Theresa Heights | New San Jose Builders | 3,000,000 | Rodriguez, Rizal |