Mercedes Residences - Preselling Condominium
Premium project of Oriental International. in San Miguel Pasig Metro Manila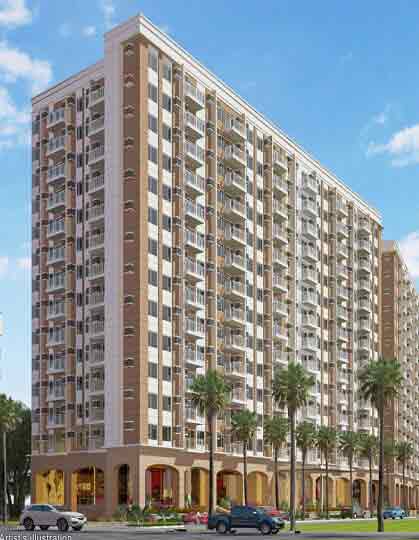 Project Type : Condominium
Listing Type : Preselling
Developer Name : Oriental International.
Units : Studio, 1 BR, 2 BR, 3 BR
Price: ₱ 1,900,000 & Up
Address : # 29 Mercedes Avenue,
Location : Pasig , Metro Manila PH Mercedes Residences Oriental International. Mercedes Residences Mercedes Residences Oriental International. Mercedes Residences Pasig
https://www.mercedesresidences.com
The Mercedes Residences is the home of the future and an enclave that never expires. These 15-story twin towers are ideal for those who want a not-so-tall residence in the city where most unit owners are always wanting to breathe outside air. Even retirees will have a grand time living in the concrete jungle of the metropolis as long as their own home is shielded from the city's pollution and noises while they are confined in a truly safe and convenient place.

While the turnover date (2019) for the North Tower is fast approaching (barely a year to go), you can easily move in whenever there is a go signal from the management. You will certainly be surprised for the unit you want to own. All units have a high ceiling and airy bedrooms with ample natural light so you are living every day with a fresh breeze of air circulating on your unit. Experience the boost of sunlight when you wake up and admire the sunset in the afternoon after a heavy day from work.

The Mercedes Residences Pasig is truly a work of art and a home dedicated to hardworking Filipinos of the new generation!
Popular Links
Mercedes Residences
Mercedes Residences Location
Mercedes Residences For Rental Units
Mercedes Residences Resale Units
Mercedes Residences Pre-Selling Units
Mercedes Residences Showroom
Mercedes Residences Amenities
Mercedes Residences Price
Mercedes Residences Contact
Mercedes Residences Oriental International. For Sale Price List

| Unit Name | Project Name | Developer | Price (₱) | Location |
| --- | --- | --- | --- | --- |
| Studio Unit | Mercedes Residences | Oriental International. | 1,978,515 | Pasig, Metro Manila |
| 1 Bedroom | Mercedes Residences | Oriental International. | 2,565,200 | Pasig, Metro Manila |
| 2 Bedroom | Mercedes Residences | Oriental International. | 4,009,005 | Pasig, Metro Manila |
| 3 Bedroom | Mercedes Residences | Oriental International. | 5,664,010 | Pasig, Metro Manila |