The Galleon - Preselling Condominium
Premium project of Ortigas & Company in Ortigas Pasig Metro Manila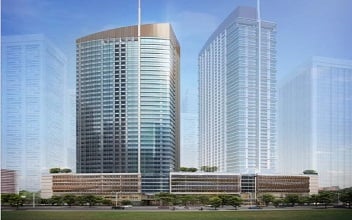 Project Type : Condominium
Listing Type : Preselling
Developer Name : Ortigas & Company
Units : Glass Suites and Units, Prime Suites and Units
Price: ₱ 19,000,000 & Up
Address : ADB Avenue, Ortigas Center, Pasig City
Location : Pasig , Metro Manila PH The Galleon Ortigas & Company The Galleon The Galleon Ortigas & Company The Galleon Pasig
https://www.galleonpasig.com/
The Galleon at the Ortigas Center is ready to set sail! This office, residential, and retail developments in Ortigas Center is currently the talk of the town! The Galleon Ortigas in Pasig City is owned and developed by Ortigas & Co. Ltd. Partnership (OCLP), and will soon rise at the heart of the central business district of Ortigas in Pasig City. The development is comprised of two towers, each has 75 stories, and expected to be the tallest skyscraper in the Philippines when it is completed in 2025.

The project will have 2 phases; Phase 1 will be the Office and Retail Podium while Phase 2 will be the High-end Residential Condominium Tower.

First to be launched in July 2019 was the Retail and Office Tower which will include office spaces and retail shops for the workers, tenants, and residents use. The first tower offering of office spaces will have an average floor area between 75 to 767sqm numbering about 418 units. The office space will have a 47,000sqm of footprint and will sell between Php20.9 million to Php184 million. The project is expected to be completed 6 years from now.

Moreover, the office tower, which is called Offices at The Galleon, provides a safe and convenient investment for businesses, multinational companies, and investors who want to own their place of business so they won't rent anymore. The location also offers the best opportunities for thriving businesses and its accessibility is unparalleled with other office developments across the country.

Meanwhile, the residential component of the Galleon, called Residences at the Galleon will have its launching soon. This high-end residential condo community will be an exclusive home that will compliment the prime location within the bustling Ortigas Center and yet maintains life's solemnity. At the Residences at the Galleon, residents and guests could enjoy the world-class amenities, green features, and retail spaces.
The Galleon Ortigas & Company For Sale Price List

| Unit Name | Project Name | Developer | Price (₱) | Location |
| --- | --- | --- | --- | --- |
| Glass Suites | The Galleon | Ortigas & Company | 19,143,000 | Pasig, Metro Manila |
| Glass Units | The Galleon | Ortigas & Company | 19,143,000 | Pasig, Metro Manila |
| Prime Suites | The Galleon | Ortigas & Company | 19,143,000 | Pasig, Metro Manila |
| Prime Units | The Galleon | Ortigas & Company | 19,143,000 | Pasig, Metro Manila |