Amoa Cebu - Preselling House & Lot
Premium project of AboitizLand in Tamiao Compostela Cebu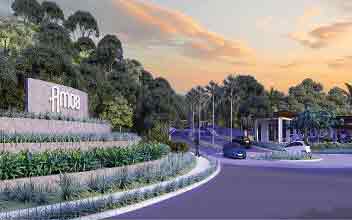 Project Type : House & Lot
Listing Type : Preselling
Developer Name : AboitizLand
Units : House & Lot
Price: ₱ 1,699,500 & Up
Address : Tamiao, Compostela,
Location : Compostela , Cebu PH Amoa Cebu AboitizLand Amoa Cebu Amoa Cebu AboitizLand Amoa Cebu Compostela
https://www.amoacebu.com
The 60-hectare modern minimalist design of the Amoa Cebu is one of AboitizLand's most exhilarating architectural wonders that excite the senses. Add to it is the nice sceneries, hilly terrain, and the cool breeze surrounding your new home. This house and lot community for sale in Brgy. Tamiao, Compostela, Cebu, is thus far one of AboitizLand's most exciting enclaves. Its close proximity to the shore of Camotes Sea (less than 2km east of the property) makes it more enticing and alluring. Imagine that you have to live every day witnessing a glorious sunrise near an ocean while at the opposite side is a mountain range which displays the best in nature.
Unlike other residential communities laying beside natural environment, the Amoa Cebu has 3 swimming pools that serve different age bracket so residents don't congregate in a single pool. This utmost exclusivity is a rare opportunity that only happens once in a lifetime. Not only that, if you are not feeling like swimming, you can stroll along your community's wide open spaces and pocket gardens with your loved ones. Do you know that 46% of the total land area of Amoa is dedicated just for this purpose?
If you have more space to explore, it will allow your kids to enjoy the opportunity to grow up with a priceless appreciation for a life well-lived. Additionally, your children will easily learn to live in harmony with the place and people that surround them.
Moreover, more than the site's stunning views and vast breathing space, the wide array of house model selections (which are all certified AboitizLand signature brands) will give discriminating homeowners more freedom to choose according to their needs. Live life to the fullest, make a wise decision, consider Amoa Compostela Cebu as your next residence away from the maddening crowd of the city which will also keep your children safer and secured any time of the day.

Popular Links
Amoa Cebu
Amita Model House
Ananda Model House
Asha Model House
Aruna Model House
Amoa Cebu Location
Amoa Cebu For Rental Units
Amoa Cebu Resale Units
Amoa Cebu Pre-Selling Units
Amoa Cebu Showroom
Amoa Cebu Amenities
Amoa Cebu Price
Amoa Cebu Contact
Amoa Cebu AboitizLand For Sale Price List

| Unit Name | Project Name | Developer | Price (₱) | Location |
| --- | --- | --- | --- | --- |
| Amita Mid | Amoa Cebu | AboitizLand | 1,699,500 | Compostela, Cebu |
| Amita End | Amoa Cebu | AboitizLand | 1,957,000 | Compostela, Cebu |
| Ananda | Amoa Cebu | AboitizLand | 2,509,080 | Compostela, Cebu |
| Aruna | Amoa Cebu | AboitizLand | 2,609,299 | Compostela, Cebu |
| Asha | Amoa Cebu | AboitizLand | 3,596,925 | Compostela, Cebu |