Camella Cerritos Terraces - Ready For Occupancy House & Lot
Premium project of Camella in Daang Hari Road Bacoor Cavite
Camella Cerritos Terraces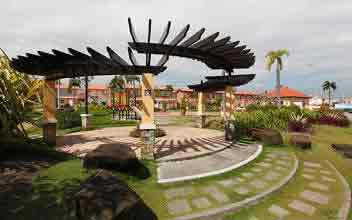 Project Type : House & Lot
Listing Type : Ready For Occupancy
Developer Name : Camella
Units : House and Lot
Price: ₱ 4,896,000 & Up
Address : Daang Hari, Molino,
Location : Bacoor , Cavite PH Camella Cerritos Terraces Camella Camella Cerritos Terraces Camella Cerritos Terraces Camella Camella Cerritos Terraces Bacoor
https://www.camellacerritosterraces.com/
After the success of earlier Cerritos projects namely Cerritos 1, Cerritos 2 (Trails), Cerritos Heights, and Cerritos Hills, Camella introduces new five-hectare exclusive neighborhood, equally impressive, Cerritos Terraces.

Cerritos Terraces is conveniently located in Daang Hari - only 5 minutes from Alabang and 20 to 30 mins from SM Mall of Asia.

The completion of the Daang Hari Exit via SLEX will make Cerritos Terraces even more accessible to Makati, Ortigas, and other locations like Laguna and Batangas.

Furthermore, Cerritos Terraces is within EVIA - a DiverseCity, Vista Land's master planned Development in the South of Manila which is envisioned to become the premier location in the South. EVIA is an aggregation of multitude that is relevant to individuals, families, and enterprises alike. Education through the University Town. Recreation via The Riverwalk, The Lifestyle Center, and The Parks. Celebration in a unique and exquisite setting: The Fernbrook Gardens. Office Buildings will be dedicated to BPO's and similar entities.

Cerritos Terraces will be home to meticulously-built houses. Single-attached homes with floor areas ranging from 52 square meters to 81 square meters and lot areas from 88 square meters to 120 square meters. Also, there would be a choice of two and three-bedroom houses.

Cerritos Terraces boasts of its amenities - a Clubhouse, Basketball Court, and Parks and Playground where families can bond and treasure memories together. Security and safety of residents are given utmost consideration. An Entrance Gate and Perimeter Fence will be constructed with 24-hour security. A shuttle service is provided to the residents from the subdivision to major destinations. For multiple reasons this community is the best place for yopu ad your family.

Themed community with clean facade, rolling terrain, manicured parks and playground, and complete functional amenities makes it a fun and family-friendly community. Community is well planned from the beginning and maintained so that modifications of buyers are ensured to blend with the overall theme of the community.

The construction and development is everlasting. Camella uses only proven conventional construction methods in building their houses. For instance, they use 5-inch load bearing hollow blocks for their exterior walls.

It offers Camella "terrain" models which follows the slope of land. The uphill and downhill gives a different feel to these units.

Having a strategic location this sustainable community is just 5 minutes from Alabang and located quite near to schools, hospitals, churches and malls. Daang Hari. Link Road ongoing construction which will shorten travel time from SLEX to Bellefort to about 5 to 10 minutes. Developers have ensured that this community is a Flood-free zone!

The amenities at this lavish community include Clubhouse, Basketball Court, Parks and Playground, Swimming Pool, Convenience Store and Shuttle Service. The protection and security of the residents is the top most priority. For the security purposes, Gate and walls are installed. Security is on alert 24 hours.