Camella Ozamiz - Preselling House & Lot
Premium project of Camella in Labo Ozamiz Misamis Occidental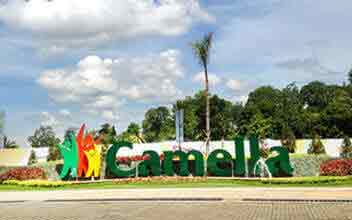 Project Type : House & Lot
Listing Type : Preselling
Developer Name : Camella
Units : Townhouse
Price: ₱ 1,146,051 & Up
Address : Brgy. Labo, Ozamiz City, Misamis Occidental
Location : Ozamiz , Misamis Occidental PH Camella Ozamiz Camella Camella Ozamiz Camella Ozamiz Camella Camella Ozamiz Ozamiz
https://www.camellaozamiz.com/
Recreate the verdant setting in every space and make the breeze cool and lovely, this is what Camella Ozamiz is made of. A brilliant display of man-made wonders and nature's best images is what this Mediterranean inspired community had achieved.

Ozamiz City is one of the component cities of the province of Misamis Occidental and engaged mainly in the production and export of wood and coconut oil and its by-products, marine products and other forest-base commodities.

The Camella Ozamiz is what brings Vista Land Company to this wonderland of Misamis Occidental. The 20-hectare house and lot residential community is a Caribbean inspired development that looks like magic but not a trick, not an illusion; just a perfect combination of nature and man-made wonders! A fantasyland in the making!

The residential development is located in Brgy. Labo, Ozamiz City, Misamis Occidental. This city is dramatically growing into one of the economic powerhouses of Misamis Occidental. And the Camella Ozamiz is just the perfect dwelling for the growing family who want a unique and self-sustaining community without the high-end tag price. The amenities are just amazing!

The houses are designed and built under the Camella Home Series in 14 models and constructed as 2-Storey Single-Firewall, 2-Storey Single-Detached, 2-Storey Townhouse and Bungalow. Sizes range from 28 to 179sqm of floor area while lot area range from 36 to 143sqm.

There are 1-5 bedrooms, 1-2 T&B; provisions for balcony, maid's room and carport for selected units. Spaces are allotted for living and dining areas, kitchen with sink: porch, study area and service area provisions for selected units.

The amenities are really outstanding, such as swimming pool, jogging trails, picnic lawn, playground, Clubhouse, function hall, landscaped gardens with fountain, basketball court and so much more!

This 24/7 secured and gated community is very near to some of the best schools in the city, such as Ozamiz City High School, Medina College, De La Salle University Ozamiz, Misamis Institute of Technology, FMC-MA School and Misamis University.

Several hospitals are also near the site, the likes of St. Paul Hospital, S.M. Lao Hospital, MHARSGEN Hospital and MU Medical Center.

The various malls, entertainment and retail centers and commercial complexes are within the immediate vicinity of Camella Ozamiz which includes Ozamiz City Public Market, Unitop Mall, Gaisano Mall, City Public Mall, Novo Ozamiz and Robinson's Supermarket.

Break the spell of your long suffering of being "homeless", move to Camella Ozamiz where it is not only magical, it's also economical!