Alta Vida - Preselling House & Lot
Premium project of Filinvest in San Roque San Rafael Bulacan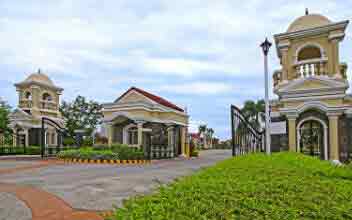 Project Type : House & Lot
Listing Type : Preselling
Developer Name : Filinvest
Units : House & Lot
Price: ₱ 3,500,000 & Up
Address : San Roque
Location : San Rafael , Bulacan PH Alta Vida Filinvest Alta Vida Alta Vida Filinvest Alta Vida San Rafael
https://altavida.sanrafaelestates.com/
With an initial area of 64 hectares, the San Rafael Estates Bulacan is a Filinvest Land Township that will provide homeowners therein of premier commercial, residential and institutional components that will solidify stand-alone living in this part of Bulacan. Residents will not have to go far just for their everyday needs of leisure, entertainment, food, education and other life's essentials.
San Rafael Estates will provide its residents of the basic necessities of life right at their doorsteps. The Township is located in flood-free Brgy. San Roque, San Rafael, Bulacan. The estate has state-of-the-art amenities and facilities that are truly Filinvest Land signature. Parks and gardens highlight the nature-inspired enclave where the best landscaped surroundings are clearly visible within the distance.
Indulge in the exclusive designs and architecture of this natural habitat where the backdrop of the Biak-na-Bato Natural Park is a scene-stealer. This affordable dwelling place celebrates man's love-affair with nature amid the modernity and the luxury therein, life will not be the same anymore compared to erstwhile smoggy city living.
Popular Links
Alta Vida
Alta Vida Location
Alta Vida For Rental Units
Alta Vida Resale Units
Alta Vida Pre-Selling Units
Alta Vida Showroom
Alta Vida Amenities
Alta Vida Price
Alta Vida Contact
Alta Vida Filinvest For Sale Price List

| Unit Name | Project Name | Developer | Price (₱) | Location |
| --- | --- | --- | --- | --- |
| 120 SQM | Alta Vida | Filinvest | 1,316,205 | San Rafael, Bulacan |
| 120-SQM | Alta Vida | Filinvest | 1,316,205 | San Rafael, Bulacan |
| 120--SQM | Alta Vida | Filinvest | 1,316,205 | San Rafael, Bulacan |
| 120-SQM- | Alta Vida | Filinvest | 1,316,205 | San Rafael, Bulacan |
| Walnut House Model | Alta Vida | Filinvest | 2,300,000 | San Rafael, Bulacan |
| Iris House Model | Alta Vida | Filinvest | 2,800,000 | San Rafael, Bulacan |
| Tulip House Model | Alta Vida | Filinvest | 4,000,000 | San Rafael, Bulacan |