Stonecrest - Preselling Lot Only
Premium project of LandCo in San Vicente San Pedro Laguna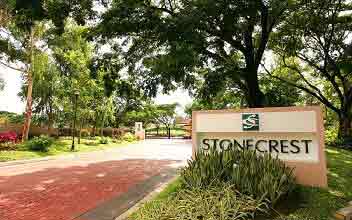 Project Type : Lot Only
Listing Type : Preselling
Developer Name : LandCo
Units : Lot Only
Price: ₱ 14,238,787 & Up
Address : Barangay San Vicente,
Location : San Pedro , Laguna PH Stonecrest LandCo Stonecrest Stonecrest LandCo Stonecrest San Pedro
https://stonecrest.buylandco.com
Want more fantastic views south of Metro Manila? At the Stonecrest San Pedro, you have the privilege to have a majestic 360-degree view of the landscape surrounding the site.

This residential lot only package in San Pedro City, Laguna will bring you to the magical scenery of Laguna de Bay on the east and the Manila Southwoods Golf Course on the southeast. This excellent residential development settles in a solemn inclined plane near the southbound lane of the SLEX in the suburbs of the majestic city of San Pedro, away from the buzz of the city but practically near all of its convenience. Feel the breathtaking architecture and the suburbs of a Southern California lifestyle filled with tree-lined roads, vast gardens, stunning landscaped front yards, central pocket parks, lush greens and grass, and a whole lot of verdant parks, well-paved pathways, and lots of resort-inspired amenities. This natural environment will be surely enjoyed by adventurous families who want to build their own house in a virtual paradise of an enclave.

The Stonecrest San Pedro is situated along San Mateo Road, Brgy. Estrella, San Pedro City, Laguna. San Pedro is the first city after Alabang from Manila to the south and the gateway to the rest of the Southern Luzon provinces that include Batangas, Cavite, Quezon Province, and the Bicol Region further south. This enchanting and sprawling subdivision lies in a 40-hectare LandCo property near the Southern Luzon Expressway (SLEX), also near the city of Biñan, and is just a one hour trip from Manila. The Filinvest Town Center Alabang is a mere 30-minute drive to the north, while the Fort (BGC) and Makati CBDs are a quick 45-minute journey also to the north. The site has for its immediate neighbors (aside from the Manila Southwoods Golf Course) the Splash Island Adventure Park, La Consolacion College, Collegio de San Pedro, Asian Institute of Computer Studies, Collegio de San Agustin, Amazing Grace School, Liceo de San Pedro, San Pedro Town Center, Pacita Complex, the Rosario Complex, VJF Precision Toolings Corp., International Electronics and Technical Institute, Unihealth Southwoods Hospital, Metro San Jose Public Market, Villa Antonio Resorts, and other residential and commercial areas near the site.

This residential lot only project in San Pedro offers the finest lot cuts this side of Laguna. Have the chance to build your own home at this vast oasis of an enclave and enjoy the finest amenities only The Stonecrest San Pedro could offer. This sanctuary has an imposing clubhouse, badminton court, a free-form swimming pool, pool deck, adult and kiddie pools with sunken garden, grand pavilion, basketball court, jogging trail, a football field, wide landscaped open spaces, large easements, village administration office, tennis court, trellis walkways, chapel, and other wonderful amenities.

The Stonecrest San Pedro Laguna is located in one of the city's rolling terrain where flooding is unheard of for generations. Even nearby cities and towns of Laguna and Cavite are virtually flood-free, so the family is safe from their everyday trip from home even on a rainy day. The site is also secured 24/7, with its sprawling entrance gate filled with verdant landscape and guarded by uniformed personnel patrolling the area day in and day out. The project is also enclosed by a well-secured perimeter fence, has fire hydrants strategically located in common spots, underground drainage system, efficient water distribution system, and other safety features.

LandCo, Stonecrest, Lot Only for Sale in Laguna, Philippines. For price list, model house, floor plans, payment terms, CHAT LIVE with an agent 24x7. If you're looking to find LandCo, Stonecrest for Sale, then check here first. We have full details of LandCo, Stonecrest for Sale updated regularly. Everything you need to know about LandCo, Stonecrest Lot Only buying process, broken down into stages. Includes selecting a unit, choosing a payment plan and buying your dream home at the right price.
Popular Links
Stonecrest
Stonecrest Location
Stonecrest For Rental Units
Stonecrest Resale Units
Stonecrest Pre-Selling Units
Stonecrest Showroom
Stonecrest Amenities
Stonecrest Price
Stonecrest Contact
Stonecrest LandCo For Sale Price List

| Unit Name | Project Name | Developer | Price (₱) | Location |
| --- | --- | --- | --- | --- |
| Lot Only | Stonecrest | LandCo | 14,238,787 | San Pedro, Laguna |