Metrogate Angeles - Preselling House & Lot
Premium project of Moldex in Mining Angeles Pampanga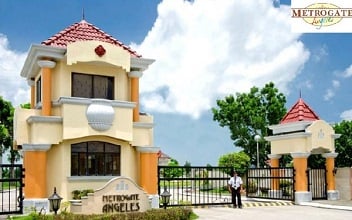 Project Type : House & Lot
Listing Type : Preselling
Developer Name : Moldex
Units : House & Lot
Price: ₱ 1,272,240 & Up
Address : Angeles City, Pampanga
Location : Angeles , Pampanga PH Metrogate Angeles Moldex Metrogate Angeles Metrogate Angeles Moldex Metrogate Angeles Angeles
https://metrogateangeles.phrealty.com/
The Metrogate Angeles is an ageless beauty of a house and lot community (or lot only package) in Angeles City, Pampanga. This sublime paradise in Central Luzon is just a moment away from Metro Manila (just an hour drive from Quezon City) and other key destinations in Central Luzon [such as Tarlac, Zambales (Subic), and Bulacan provinces].

The Metrogate Angeles Pampanga offers you some of Moldex Realty's most admired house models that come in two-story townhouses and loft units. These modern and wonderfully designed housing units are just some of the company's well-loved townhouses with the bigger lot and floor areas to boot. Your family will also love the exciting breathing spaces around and inside your home.

Moreover, the larger lot and floor areas you have, the better space and convenience of the entire family. Additionally, you will have all the freedom to modify or expand your residence in the future. The Metrogate Angeles offers a combination of Asian and Modern Homes in two-story Single Detached units and Loft units. Metrogate Angeles is considered the biggest and liveliest residential development of its class in the entire province of Pampanga and probably in the whole Central Luzon area.

Furthermore, if you want an investment that will truly deliver in terms of long-term security and value, the Metrogate Angeles is the most feasible choice. With the current trend of developing this area in Central Luzon to decongest Metro Manila, you are well ahead of anyone if you start to make a reservation now. This is the initial process in owning a part of the Metrogate Angeles, the largest and the most comprehensive residential development in Pampanga as of this date.
Metrogate Angeles Moldex For Sale Price List

| Unit Name | Project Name | Developer | Price (₱) | Location |
| --- | --- | --- | --- | --- |
| Lot Only (Regular Inner Lot) | Metrogate Angeles | Moldex | 1,272,240 | Angeles, Pampanga |
| Lot Only (Regular Inner Lot) | Metrogate Angeles | Moldex | 1,399,464 | Angeles, Pampanga |
| Lot Only (Regular Inner Lot) | Metrogate Angeles | Moldex | 1,781,136 | Angeles, Pampanga |
| Helena (Standard) | Metrogate Angeles | Moldex | 4,618,029 | Angeles, Pampanga |
| Helena (Expanded) | Metrogate Angeles | Moldex | 4,799,469 | Angeles, Pampanga |
| Dawn (House & Lot) | Metrogate Angeles | Moldex | 5,133,229 | Angeles, Pampanga |
| Florence (House & Lot) | Metrogate Angeles | Moldex | 5,837,709 | Angeles, Pampanga |
| Blanche (House & Lot) | Metrogate Angeles | Moldex | 7,182,829 | Angeles, Pampanga |
| Kathryn (House & Lot) | Metrogate Angeles | Moldex | 7,338,509 | Angeles, Pampanga |