6 Bacolod House & Lot For Sale With Price
51 Units - Rent To Own, Preselling, Ready For Occupancy Projects For Sale or Rent
0 Featured Properties Found
6 Additional Properties Found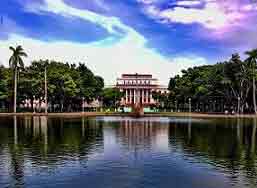 Bacolod
Bacolod City, is a highly urbanized city in the Philippines. It is the capital of the province of Negros Occidental where it is geographically situated but governed administratively independent from it.
The Bacolod-Silay International Airport, located in nearby Silay City, is 15 kilometers north-east from Bacolod. Bacolod is 1 hour by air from Manila, 30 minutes by air from Cebu, 1 hour by air from Cagayan de Oro and 1 hour and 10 minutes by air from Davao City.
Bacolod is the Philippines' third fastest growing economy in terms of information technology (IT) and business process outsourcing (BPO) activities. The city has been recommended by the Information and Communication Technology Office of the Department of Science and Technology (DOST) and Business Processing Association of the Philippines (BPAP) as the best location in the Visayas for BPO activities.
Among the notable BPO companies operating in the city are Convergys, Teleperformance, TeleTech, Transcom, Ubiquity Global Services, Panasiatic Solutions, Focus Direct Inc.,Alliance Call Centre, TeleSYNERGY Corp. - Bacolod, Hit Rate Solutions/Next Level IT Teleservices and TeleQuest Voice Services (TQVS).
Bacolod currently has 3 large universities and more than a dozen other schools specializing in various courses. Currently, as sanctioned by the Department of Education, all primary and secondary institutions in the city use the K-12 educational system.
Bacolod Negros Occidental Condo and House & Lot Price List

Property Name
Price (₱)
Location
Camella Mandalagan Bacolod
₱

850,983

Bacolod , Negros Occidental
Forbes Hill ( Bacolod)
₱

7,633,000

Bacolod , Negros Occidental
Amaia Steps Capitol Central
₱

2,700,000

Bacolod , Negros Occidental
The Fountain Grove
₱

4,165,400

Bacolod , Negros Occidental
Brighton Bacolod
₱

1,440,000

Bacolod , Negros Occidental
Camella Bacolod South
₱

1,111,935

Bacolod , Negros Occidental