3 Capas House & Lot For Sale With Price
13 Units - Rent To Own, Preselling, Ready For Occupancy Projects For Sale or Rent
0 Featured Properties Found
3 Additional Properties Found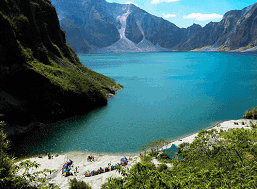 Capas
Capas is a 1st Class Municipality and the tourism center of the province of Tarlac, Central Luzon region. We have a population of more than 140,000 and a land area of about 44,000 hectares, the biggest among the municipalities in the province.
Our town covers the foothills of the world famous Mt. Pinatubo at the Zambales mountain range to the west, and part of the Central Luzon plain down to the east. It is located 100 kilometers north of Metro Manila and can be reached by a 30-minute ride from the Diosdado Macapagal International Airport in Angeles City or an hour's drive from the Ninoy Aquino International Airport.
Capas is strategically located within the Luzon Urban Beltway and the Subic-Clark-Tarlac growth corridor that connects the province with the Subic Freeport Zone and the Clark Special Economic Zone. We have abundant land, forest and mineral resources. We are aiming to be a major tourism and agro-industrial center in the country.
Under the dynamic leadership of the Hon. Mayor ANTONIO 'TJ" C. RODRIGUEZ JR., we are fully developing our God-given natural resources and world-class tourist destinations for our people and country's benefit.
Capas is the only gateway to the Mt. Pinatubo crater lake--destination of the world-famous Pinatubo trek or hike to the volcanic crater. From Mt. Pinatubo flow numerous natural hot springs and meandering rivers, some still packed with lahar and volcanic debris from the 1991 eruption. Tambo Lake, another creation of the Mt. Pinatubo eruption, is here to be seen and enjoyed.
The Capas National Shrine and Death March Memorial attract thousands of visitors each year. They were built in honor of the 30,000 American and Filipino soldiers who died during and after the infamous march in World War II.
The O'Donnell resettlement was built in our town where more than 30,000 people from Capas and other towns have found a new home after the 1991 Pinatubo disaster.
More than 8,000 Aeta and Abelling indigenous peoples live in our mountain villages. We have the biggest concentration of indigenous people in the province of Tarlac.
Constituents in our twenty barangays or villages are engaged mainly in agriculture and related businesses. Jobs can be had at the increasing number of factories and establishments producing goods for export and the local market, and of course in tourism-related activities.
With our favorable geographic location, rich history, abundant resources and an industrious and dedicated citizenry under the visionary leadership of Mayor TJ RODRIGUEZ, we are confident that we will attain our goals and usher a modern and progressive Capas into the 21st Century.