Amaia Steps Alabang - Ready For Occupancy Condominium
Premium project of Amaia Land in Almanza Uno Las Pinas Metro Manila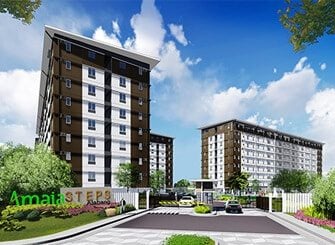 Project Type : Condominium
Listing Type : Ready For Occupancy
Developer Name : Amaia Land
Units : Studio, Deluxe Unit, Premiere Unit
Price: ₱ 3,100,000 & Up
Address : 1750 Alabang–Zapote Road, Almanza Uno
Location : Las Pinas , Metro Manila PH Amaia Steps Alabang Amaia Land Amaia Steps Alabang Amaia Steps Alabang Amaia Land Amaia Steps Alabang Las Pinas
https://www.amaiastepsalabangcondos.com/
The Amaia Steps Alabang is not only easy to pay, but you can also choose how to pay for it. If you decide to pay in cash, you can pay the total selling price (TSP) within 30 days; with 7% discount or 5% discount for Ready For Occupancy (RFO) units. You can also choose deferred cash. By this method, you can pay the TSP within 24 months without interest. And lastly, you can do the payments via Bank Financing. By this scheme, you can pay the down payment (DP) of 5% within 6 months while the remaining balance (95% of TSP) is payable via Bank Financing with the prevailing interest rates is applied. The Amaia Steps Alabang is a quality product from the Amaia Land Development Corp., a proud member of Ayala Land, Inc.

There is no way that you can't afford to invest at the Amaia Steps Alabang, with all available payment scheme favoring you. Can you resist the temptation of putting your hard-earned money in a very low-risk investment? With some of the industry's biggest floor areas for a condo unit (with up to 48.75sqm of floor area), more affordable than other high-end condo developments, and a developed property carrying the Ayala Land's brand of innovations, you are sure to get the most feasible investment in your lifetime at the Amaia Steps Alabang.

Moreover, the Amaia Steps Alabang offers more choices for a residential building that you would want to live. The project's 9 building residential development is even made easier for you to go up and down to and from your room every day as each building has only 9 floors. Just like a customized home, the Amaia Steps Alabang has more spaces and exciting amenities typically distinct from any other upscale condo developments across Metro Manila.
Amaia Steps Alabang Amaia Land For Sale Price List

| Unit Name | Project Name | Developer | Price (₱) | Location |
| --- | --- | --- | --- | --- |
| Studio - Esperanza | Amaia Steps Alabang | Amaia Land | 3,100,000 | Las Pinas, Metro Manila |
| Studio Unit - Helena | Amaia Steps Alabang | Amaia Land | 3,100,000 | Almanza Uno in Las Pinas, Metro Manila |
| Deluxe Unit - Esperanza | Amaia Steps Alabang | Amaia Land | 4,100,000 | Las Pinas, Metro Manila |
| Deluxe Unit - Helena | Amaia Steps Alabang | Amaia Land | 4,300,000 | Almanza Uno in Las Pinas, Metro Manila |
| Premiere Unit - Helena | Amaia Steps Alabang | Amaia Land | 5,700,000 | Almanza Uno in Las Pinas, Metro Manila |
| Premiere Unit - Esperanza | Amaia Steps Alabang | Amaia Land | 5,900,000 | Las Pinas, Metro Manila |