Ayala Greenfield Estates - Preselling House & Lot
Premium project of Ayala Land in Canlubang Calamba Laguna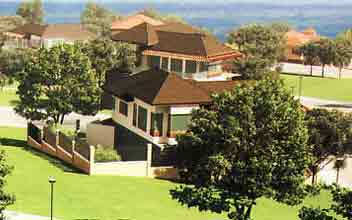 Project Type : House & Lot
Listing Type : Preselling
Developer Name : Ayala Land
Units : House & Lot
Price: ₱ 7,000,000 & Up
Address : Calamba,
Location : Calamba , Laguna PH Ayala Greenfield Estates Ayala Land Ayala Greenfield Estates Ayala Greenfield Estates Ayala Land Ayala Greenfield Estates Calamba
https://www.ayalagreenfieldestates.net/
Amidst the flora and fauna of the Calamba highlands lay The Ayala Greenfields, an Ayala Land Premier residential community overlooking the magical Mt. Makiling, the stunning Laguna de Bay, the Metro Manila landscape and the Tagaytay Ridge over the enclave's horizon and spread through its 8 phases.

The high-value residential community has its own championship golf course having 18-hole and par 72, designed by environmentalist Robert Trent Jones II. The 350-hectare residential development is also host to diverse species of endemic and migratory birds. The plant species also thrive within its backdrop enhancing the natural beauty of the surroundings.

The Greenfields is Calamba's pride and jewel and could be found in Brgy. Maunong, Calamba City, Laguna. The nearby mountain breezes cool and fresh air within the community and some of the amenities and facilities are designed by the Philippines' best designers. The site is only 20 minutes away from Alabang via SLEX and are surrounded by life's basic necessities such schools, shopping complexes, malls, medical centers and other essentials of life.
Ayala Greenfield Estates Ayala Land For Sale Price List

| Unit Name | Project Name | Developer | Price (₱) | Location |
| --- | --- | --- | --- | --- |
| Village | Ayala Greenfield Estates | Ayala Land | 5,000,000 | Calamba, Laguna |
| Hill View | Ayala Greenfield Estates | Ayala Land | 6,000,000 | Calamba, Laguna |
| Parkside | Ayala Greenfield Estates | Ayala Land | 6,100,000 | Calamba, Laguna |
| Woodside | Ayala Greenfield Estates | Ayala Land | 6,300,000 | Calamba, Laguna |
| Ridge Side | Ayala Greenfield Estates | Ayala Land | 6,500,000 | Calamba, Laguna |
| Prime Plus | Ayala Greenfield Estates | Ayala Land | 6,700,000 | Calamba, Laguna |
| Ridge | Ayala Greenfield Estates | Ayala Land | 7,600,000 | Calamba, Laguna |
| Prime | Ayala Greenfield Estates | Ayala Land | 8,600,000 | Calamba, Laguna |
| Fairway View | Ayala Greenfield Estates | Ayala Land | 12,800,000 | Calamba, Laguna |
| Fairway | Ayala Greenfield Estates | Ayala Land | 14,200,000 | Calamba, Laguna |
| Lake View | Ayala Greenfield Estates | Ayala Land | 14,500,000 | Calamba, Laguna |
| Fairway Estate | Ayala Greenfield Estates | Ayala Land | 34,900,000 | Calamba, Laguna |