110 Benavidez - Preselling Condominium
Premium project of Keyland in Legazpi Village Makati Metro Manila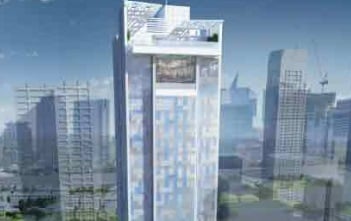 Project Type : Condominium
Listing Type : Preselling
Developer Name : Keyland
Units : Studio, 1 BR
Price: ₱ 12,070,000 & Up
Address : Benavidez St, Legaspi Village,
Location : Makati , Metro Manila PH 110 Benavidez Keyland 110 Benavidez 110 Benavidez Keyland 110 Benavidez Makati
https://www.110benavidezmakati.com

As it promises to "build and develop strategically located projects and communities in key urban centers", Keyland Corporation is bringing you the 110 Benavidez at the heart of Makati City.

This prestigious condo community for sale is not just standing right at the heartbeat of Makati, the country's premier financial center, while the site is majestically settled at the Legazpi Village, home of the nation's elite. This condo development for sale in Makati is a 32-story single tower of residential units which have too many stories to tell. This monumental residential project has what it takes to be Makati's new standard of quality living within the confines of a well-known city which can emanate warmth, functionality, and style. The development enhances unique design philosophy that gives credence to five basic elements, which represent the project's major aspects that include sustainable living, a breath of financial viability, utmost security, top-of-the-line architectural design, and breathable living spaces. With only 209 residential units being offered, 110 Benavidez is romantically more captivating with its priceless living privacy.

The 110 Benavidez is situated along Benavidez St., Legazpi Village, Makati. This address is so energetic and vibrant that everyone wants to have a piece of it. Aside from private residences, this once-in-a-lifetime enclave also housed the Ascott managed and operated Citadines Benavidez Makati apartment-hotel. The breakdown has 67 units for the private residences and 142 units for the latter. This put future investors a wide range of choices, whether to engage in the project's apartment-hotel service by renting out their units or live within. The Modern Contemporary building design is out-of-this-world and hasn't been seen in the country. Added to its luxury units, 110 Benavidez is located along one of Makati's busiest streets and one of the most precious destinations of the city where everything you want is just a doorstep away. The site is just a few blocks from the Don Bosco Technical Institute, Assumption College, and the Asian Institute of Management, as well as from SM Makati, the Greenbelt Shopping Mall, Walter Mart Makati, and the Makati Cinema Square, among other entertainment and shopping centers. But this amazing reprieve still provides you with much need serenity and tranquility despite a dynamic neighborhood.

The 110 Benavidez Makati Legazpi Village also offers multifunctional features and amenities which are a great magnet for various end-users. Its admirable roof deck has beautiful landscape boasting a majestic view of the city's skyline. On the top deck, an infinity pool is sprawled throughout which is a perfect venue for the family to bond with friends. The amenity floor has a fitness gym complete with workout equipment and expandable function rooms. The ground level has an awe-inspiring lobby, retail shops, and attractive entrance. Even the elevator lobby is landscaped with high-speed lifts so you can go anywhere in the building as fast as you could. The site is virtually blackout-proof with several generator sets on standby mode. The 110 Benavidez offers stylish Studio Units (29.56 to 31.24sqm), One-Bedroom Units (58.42sqm), and 2-Bedroom Units (87.77sqm) with intimate spaces for rest and recreation. Moreover, each unit is crafted with minimalist design and constructed with precision and according to the master plan.

Keyland Corporation, 110 Benavidez, Condo for Sale in Makati City, Philippines. For price list, model house, floor plans, payment terms, CHAT LIVE with an agent 24x7. If you're looking to find Keyland Corporation, 110 Benavidez for Sale, then check here first. We have full details of Keyland Corporation, 110 Benavidez for Sale updated regularly. Everything you need to know about Keyland Corporation, 110 Benavidez Condo buying process, broken down into stages. Includes selecting a unit, choosing a payment plan and buying your dream home at the right price.
Popular Links
110 Benavidez
110 Benavidez Location
110 Benavidez For Rental Units
110 Benavidez Resale Units
110 Benavidez Pre-Selling Units
110 Benavidez Showroom
110 Benavidez Amenities
110 Benavidez Price
110 Benavidez Contact
110 Benavidez Keyland For Sale Price List

| Unit Name | Project Name | Developer | Price (₱) | Location |
| --- | --- | --- | --- | --- |
| Studio Unit | 110 Benavidez | Keyland | 12,070,000 | Makati, Metro Manila |
| Studio + Balcony | 110 Benavidez | Keyland | 14,863,000 | Makati, Metro Manila |
| One Bedroom | 110 Benavidez | Keyland | 21,936,000 | Makati, Metro Manila |