Grand Westside Hotel - Preselling Condominium
Premium project of Megaworld in Entertainment City Pasay Metro Manila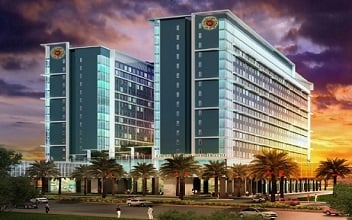 Project Type : Condominium
Listing Type : Preselling
Developer Name : Megaworld
Units : Twin Suite, Queen Suite, Executive Suite
Price: ₱ 0 & Up
Address : Westside City Bayshore, Entertainment City, Pasay City
Location : Pasay , Metro Manila PH Grand Westside Hotel Megaworld Grand Westside Hotel Grand Westside Hotel Megaworld Grand Westside Hotel Pasay
https://www.hotelgrandwestside.com/
The Megaworld Grand Westside Hotel Pasay City is an awesome treat for both investors and guests. This Megaworld condotel (condominium hotel) is quiet gaining popularity among foreign travelers across the globe because of its homey ambiance, family-friendly amenities and facilities, and the great service that the Prestige Hotels & Resorts, Inc. (expert management team at the Grand Westside) are undertaking. Investors at this modern hotel concept are offered the chance of a lifetime in owning a hotel unit of their own, which, like other real estate properties, continue to build higher income and steeper property appreciation during the course of time.
The twin-tower Grand Westside Hotel is a hotel unit purchase for enterprising investors that will be run by Megaworld's most trusted hotel managers (Prestige Hotels & Resorts, Inc.) for you. As the condotel is being marketed as a hassle-free and worry-free investment, this mainly holds true as the company had done before via the Kingsford Hotel located in the same area. Even paying up for your real estate taxes can be handled by the management on your behalf so you don't have to. Kingsford Hotel is now fully sold out by interested investors.
Furthermore, with the project's unique amenities and distinct facilities, add to it is the ideal location (a walking distance from the Megaworld casino called the Resort World Westside City, the 4th casino in the Entertainment City), the rate of occupancy is projected to be 98% any time of the year. Be among the first one to reserve a hotel unit at the Grand Westside Hotel Pasay City as its limited offering of only 685 saleable units might be gone soon.
Grand Westside Hotel Megaworld For Sale Price List

| Unit Name | Project Name | Developer | Price (₱) | Location |
| --- | --- | --- | --- | --- |
| Twin Suite (South Tower) | Grand Westside Hotel | Megaworld | 6,960,000 | Pasay, Metro Manila |
| Queen Suite (South Tower) | Grand Westside Hotel | Megaworld | 6,960,000 | Pasay, Metro Manila |
| Twin Suite (North Tower) | Grand Westside Hotel | Megaworld | 7,730,000 | Pasay, Metro Manila |
| Queen Suite (North Tower) | Grand Westside Hotel | Megaworld | 7,730,000 | Pasay, Metro Manila |
| Twin Suite for Specially Abled (North Tower) | Grand Westside Hotel | Megaworld | 11,250,000 | Pasay, Metro Manila |
| Queen Suite for Specially Abled (North Tower) | Grand Westside Hotel | Megaworld | 11,890,000 | Pasay, Metro Manila |
| Executive Suite (South Tower) | Grand Westside Hotel | Megaworld | 13,920,000 | Pasay, Metro Manila |
| Executive Suite (North Tower) | Grand Westside Hotel | Megaworld | 14,400,000 | Pasay, Metro Manila |