Savoy Hotel Boracay - Preselling Condominium
Premium project of Megaworld in New Coast Drive Boracay Newcoast Aklan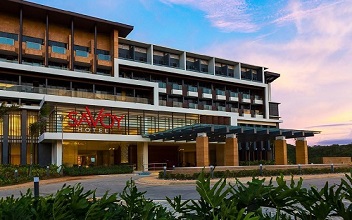 Project Type : Condominium
Listing Type : Preselling
Developer Name : Megaworld
Units : Suite
Price: ₱ 7,270,000 & Up
Address : New Coast Drive, Boracay Newcoast, Aklan
Location : Boracay Newcoast , Aklan PH Savoy Hotel Boracay Megaworld Savoy Hotel Boracay Savoy Hotel Boracay Megaworld Savoy Hotel Boracay Boracay Newcoast
https://www.savoyhotelnewcoast.com
The Savoy Hotel Boracay is your effective way of having a nice future for you and the family. This hotel unit for sale or for lease in Boracay is a Megaworld's masterpiece and being run by one of the world's finest hotel managers (Prestige Hotels & Resorts, Inc.). This is the same management company that runs other Megaworld's prestigious hotels, such as the Richmonde Hotel in the Ortigas Center, the Eastwood Richmonde Hotel in Quezon City, and the Grand Westside Hotel in Entertainment City Manila. Imagine having a world-class manager managing your hotel suite the way it handles other luxurious hotels.

The Savoy Hotel Boracay is a very safe investment that will take you laughing on your way to the bank. But how do you know this hotel will click? Just consider this: a hotel that is near the famous White Beach of Boracay but far enough to avoid its maddening crowd; a free shuttle service to and from the White Beach for hotel guest; more relaxing amenities offered on the hotel's premises; with access to amenities offered by Boracay Newcoast on which the hotel is located; with a coverage of 1.5km of expansive beach with fine white sand and crystal clear blue waters; a surrounding and hotel operations that are primarily safe from the degradation of the environment; and last but not the least, this hotel is designed and built by Megaworld. And don't forget that your property will be run by one of the world's expert managers.

The list seems endless that you can consider before buying a hotel unit at the Savoy Hotel Boracay as a business proposition. But one thing is for sure, the property is the thing to be in Boracay once the island is open for business come April 26, 2018!
Popular Links
Savoy Hotel Boracay
Savoy Hotel Boracay Location
Savoy Hotel Boracay For Rental Units
Savoy Hotel Boracay Resale Units
Savoy Hotel Boracay Pre-Selling Units
Savoy Hotel Boracay Showroom
Savoy Hotel Boracay Amenities
Savoy Hotel Boracay Price
Savoy Hotel Boracay Contact
Savoy Hotel Boracay Megaworld For Sale Price List

| Unit Name | Project Name | Developer | Price (₱) | Location |
| --- | --- | --- | --- | --- |
| Twin Suite | Savoy Hotel Boracay | Megaworld | 7,270,000 | Boracay Newcoast, Aklan |
| Queen Suite | Savoy Hotel Boracay | Megaworld | 7,690,000 | Boracay Newcoast, Aklan |
| Handicapped Room | Savoy Hotel Boracay | Megaworld | 7,969,000 | Boracay Newcoast, Aklan |
| Junior Suite | Savoy Hotel Boracay | Megaworld | 9,647,000 | Boracay Newcoast, Aklan |