Bloomfields Cagayan De Oro - Ready For Occupancy House & Lot
Premium project of Robinsons Land in Lumbia Cagayan De Oro Misamis Oriental
Bloomfields Cagayan De Oro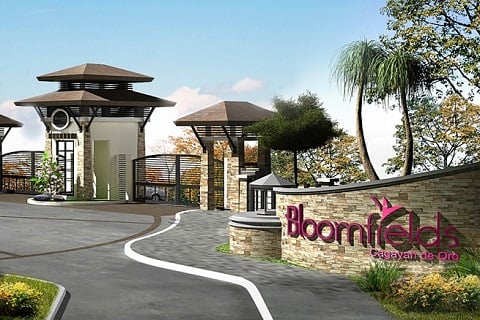 Project Type : House & Lot
Listing Type : Ready For Occupancy
Developer Name : Robinsons Land
Units : House & Lot
Price: ₱ 2,294,320 & Up
Address : Along Airport Road, Lumbia
Location : Cagayan De Oro , Misamis Oriental PH Bloomfields Cagayan De Oro Robinsons Land Bloomfields Cagayan De Oro Bloomfields Cagayan De Oro Robinsons Land Bloomfields Cagayan De Oro Cagayan De Oro
https://bloomfieldscdo.phproperty.com/
Succumb to the beauty and elegance of Cagayan De Oro, Misamis Oriental's precious charm where the Robinsons Homes' Bloomfields Cagayan de Oro, a green community rising in a wonderful city, which is also blooming like an endearing enclave that is full of life, has natural setting with rolling hills, eco-friendly neighborhood, and stylish homes.

This house and lot (or lot only purchase) property development for sale in Cagayan De Oro City (also know as CDO) is a charming community which is owned, designed, and built by the country's award-winning real estate developer, Robinsons Homes, a long-lasting brand that "is committed to making the lives of Filipinos more meaningful as it develops vibrant, delightful, and lasting live-work-play environments that serve as a perfect setting for new opportunities and a better life". True to this mission, the company sets the trend in a new generation of awesome living even as far as the provinces. The Bloomfields CDO is launched in May 2013 at the Mallberry Suite's Palladium Ballroom in Cagayan De Oro City comprising of 144 prime residential lots spread through a 6.5-hectare of elevated land along Lumbia Airport Road adjacent to the Fresno Parkview.

The Bloomfields Cagayan De Oro is touted to be the next residential destination in CDO along with other Robinsons Homes' equally astonishing residential developments in the city, such as the Hillsborough Pointe, Richmond Hills, and Fresno Parkview. The Bloomfields CDO is the fourth residential development of Robinsons in this city. The site is specifically situated along Airport Road, Brgy. Lumbia, Cagayan De Oro City, Misamis Oriental.

This unique community of classic with modern twist house and lot units which have all the spaces you truly need to live, work, and play in one confined or short distances with each other that also comes with authentic recreational amenities and distinct functional facilities. At the Bloomfields, residential lots have sizes with an average area of 209sqm with the option for housing through an unquestionable quality home selections of the Robinsons Home Design Collection. Residential lot density is also kept to a minimum with only 25 prime lot cuts per hectare.

As the Bloomfields Cagayan De Oro is as verdant as the trees and lush greens surrounding the enclave, its location is also the envy of most homeowners who live away from the conveniences and modernity of the city. The project lies just 2 minutes away from the Lumbia Airport, has easy access to the city's top-notch university and schools, and first-class hospitals, such as the Xavier University- Ateneo De Cagayan, Rosevale School, Corpus Christi School, East City Central School, St. Mary's Academy of Carmen, Xavier University Elementary School, Marymount Academy, Lourdes College, City Central School, Maria Reyna Xavier University Hospital, Capitol University Medical Center, Madonna and Child Hospital, and JR Borja General Hospital.

The site is also in close proximity to leisure destinations like the Pueblo De Oro Golf and Country Club, Xavier Sports and Country Club, as well as prime shopping and commercial centers, such as the Robinsons CDO, SM City CDO, Carmen Public Market, Puregold CDO, Cogon Public Market, and other famous landmarks and shopping galore within the city.

Robinsons, Bloomfields Cagayan de Oro, House & Lot for Sale in Cagayan de Oro, Philippines. For price list, model house, floor plans, payment terms, CHAT LIVE with an agent 24x7. If you're looking to find Robinsons, Bloomfields Cagayan de Oro for Sale, then check here first. We have full details of Robinsons, Bloomfields Cagayan de Oro for Sale updated regularly. Everything you need to know about Robinsons, Bloomfields Cagayan de Oro House & Lot buying process, broken down into stages. Includes selecting a unit, choosing a payment plan and buying your dream home at the right price.
Popular Links
Bloomfields Cagayan De Oro
Bloomfields Cagayan De Oro Location
Bloomfields Cagayan De Oro For Rental Units
Bloomfields Cagayan De Oro Resale Units
Bloomfields Cagayan De Oro Pre-Selling Units
Bloomfields Cagayan De Oro Showroom
Bloomfields Cagayan De Oro Amenities
Bloomfields Cagayan De Oro Price
Bloomfields Cagayan De Oro Contact
Bloomfields Cagayan De Oro Robinsons Land For Sale Price List

| Unit Name | Project Name | Developer | Price (₱) | Location |
| --- | --- | --- | --- | --- |
| Lot Only | Bloomfields Cagayan De Oro | Robinsons Land | 2,294,320 | Cagayan De Oro, Misamis Oriental |