Rockwell South at Carmelray - Preselling Lot Only
Premium project of Rockwell Land in Canlubang Calamba Laguna
Rockwell South at Carmelray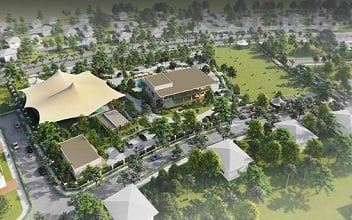 Project Type : Lot Only
Listing Type : Preselling
Developer Name : Rockwell Land
Units : Lot Only
Price: ₱ 11,100,000 & Up
Address : Canlubang, Laguna
Location : Calamba , Laguna PH Rockwell South at Carmelray Rockwell Land Rockwell South at Carmelray Rockwell South at Carmelray Rockwell Land Rockwell South at Carmelray Calamba
https://www.southcarmelraylaguna.com/
If you want to design your own space and build a home yourself, the Rockwell South at Carmelray Canlubang will provide you an abundance of legroom to make your dream home a reality. The Rockwell South at Carmelray is a signature Rockwell Land Corporation's horizontal residential development taking you to the beauty and majesty of Canlubang, Laguna, and just a few hours away from Manila.

Canlubang is a barangay in Calamba, Laguna and the biggest barangay in the Philippines in terms of land area. But Canlubang is highly developed and hosts some of the largest residential hubs (such as the Ayala Land's Nuvali Townships) and some of the most prosperous industrial parks in the Southern Tagalog region. The Rockwell South at Carmelray's future homeowners will benefit from all Canlubang has to offer.

The Rockwell South at Carmelray is a lot only project of Rockwell Land Corporation that offers some of the biggest and most sophisticated lot cuts in the industry. Here, you can build your own house and home that will define your lifestyle. The property offers 10 types of lots that range in size from 300sqm to 1000+sqm spread throughout the 60 hectares of prime land. These bigger and more spacious lots are integrated with nature-infused and man-made central amenity, recreational parks, and a location that offers the best accessibility from Metro Manila and other parts of the CALABARZON region.

The Rockwell South at Carmelray is situated in Canlubang, Laguna, which is easily accessible from Metro Manila via the South Luzon Expressway (SLEX) and the Cavite-Laguna Expressway's (Cavitex) four exits. The project is less than an hour away from the central business districts of Makati and BGC (Taguig) and just 40 minutes from Alabang (Muntinlupa). With this easy accessibility from Metro Manila, living in the south will also mean living with modern comfort and necessities but with more security, access to clean living, and the joy of mingling with nature every day.
Rockwell South at Carmelray Rockwell Land For Sale Price List

| Unit Name | Project Name | Developer | Price (₱) | Location |
| --- | --- | --- | --- | --- |
| Lot Only | Rockwell South at Carmelray | Rockwell Land | 11,100,000 | Calamba, Laguna |
| Lot Only | Rockwell South at Carmelray | Rockwell Land | 16,800,000 | Calamba, Laguna |
| Lot Only | Rockwell South at Carmelray | Rockwell Land | 26,217,000 | Calamba, Laguna |
| Lot Only | Rockwell South at Carmelray | Rockwell Land | 30,000,000 | Calamba, Laguna |
| Lot Only | Rockwell South at Carmelray | Rockwell Land | 38,000,000 | Calamba, Laguna |
| Lot Only | Rockwell South at Carmelray | Rockwell Land | 41,700,000 | Calamba, Laguna |