Grace Residences - Ready For Occupancy Condominium
Premium project of SMDC in Ususan Taguig Metro Manila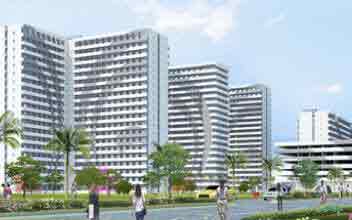 Project Type : Condominium
Listing Type : Ready For Occupancy
Developer Name : SMDC
Units : 1 BR
Price: ₱ 0 & Up
Address : Levi Mariano, Taguig, 1632 Metro Manila
Location : Taguig , Metro Manila PH Grace Residences SMDC Grace Residences Grace Residences SMDC Grace Residences Taguig
https://phsmdcgraceresidences.phrealty.com
Grace Residences: The Dream Home

Nestled in the quiet of Levi Mariano, Taguig, Grace Residences is the home of your dreams. One of SMDC's premier projects it bears their trademark superlative quality with flawless design standards. The calm suburban home which is close to all that you need. Now you can enjoy resort like amenities at your own home itself. The location of the property is such that, it gives you just enough distance from the city to enjoy peace and tranquillity and yet not worry about long travel times to work. Grace Residences is surrounded by all the required amenities and is easily accessible by various transports. As you move into your suburban dream house, you will find yourselves amidst world class facilities. With top of the line amenities and around the clock security, this is the home you have been dreaming of. Open space, meticulous landscaping and a serene environment make it perfect for 'stay-cationers' and for children. Now you have wide open spaces where you can relax and completely let go. SMDC has strategically built this with open and wide architecture, giving this private community plenty of space to enjoy and have fun in. Just by being a SMDC project, Grace Residences becomes the best option for you, but if you are still not sure, continue reading.


Quality at its Finest

Spread across 2.6 hectares, Grace Residences is another SMDC masterpiece. There are four towers each 12 to 20 storeys high, and with one or two bedroom condominiums. You even have the option of having yours with a balcony. Those with growing families can opt for residential suits. The sizes of the apartments may vary, but what remains constant is the superlative quality of each and every architectural design choice and the amazing design aesthetics. All the future residents will be welcomed into a world of classic and timeless designs. Throughout each of the towers, SMDC has strived to provide the best of everything, from the finishing to the furnishing. Inside and out, all that you will see is great quality and taste combined with lasting and durable materials.

From the building façade to the landscaped gardens, you will find yourself in a premier dream scape with total perfection surrounding you. The hallmark SMDC superlative quality can be seen in every minute detail, from the playground to the lobby interiors, there is not even an inch of the property that has not been designed with perfection. You and your family will find yourselves in a suburban oasis, a dream home that provides you luxury with comfort. What you will find is that there has been absolutely no compromise on quality.

This is what dreams are really made of.


Beautiful Interiors

As you step into your dream home you are welcomed into a beautifully designed interior. The common areas, lobbies and grand lobbies are artfully designed keeping in mind the suburban oasis theme. Warm inviting colours adorn the fabrics and furnishings to make the place feel cosy and comforting, like a cocoon. The walls in these common areas, are furnished with warm woods whereas the floors have vinyl tiles, having the perfect combination of warm and cool. Pretty light fixates adorn your lobbies and hallways, making it a functional and yet an artistic piece of furnishing. The common areas like the lounge and the grand lobby, have certain statement piece of architecture or furnishing, which makes for a great conversation starter. The ambience in the common areas is customised to provide a neutral yet inviting feel. The design aesthetics, give a resort style vibe, allowing our residents to feel as if they own a resort of their own.

The condominiums as well as the residential suites are beautifully and meticulously designed. With wide open floor plans, they give a growing family room to expand and customise. Sleek sinks and faucets, coupled with customised cabinets, make for a beautiful kitchen. The countertops and the floor are tiles, making them easy to clean and maintain. Cooking has never been this fun or hassle free. Toilets have world class finishing along with state of the art plumbing. The walls have a combination of tiles and paint similar to the kitchens. The rest of the rooms have vinyl tiled floors, not only are they durable and easy to maintain, they look ultra-chic and classy. The walls have simple pale paint finish, giving you the liberty to design and colour the space according to your needs and desires. SMDC aims at providing quality service with enough flexibility to allow the residents to personalise their own space.


Additional Amenities

Grace Residences is proud to provide its future residents resort style facilities and conveniences. Here you will be provided with the ideal ambience to relax and revitalise. Lush landscaped gardens are the perfect place to hold a picnic or simply bask under the sun. Why not spend some quality time with your children as you teach them a game in the open grounds available to you inside the complex. Better yet race with them along the jogging trails around the complex. Every spot in and around the complex has been carefully designed to give you and your family ample opportunity to bond and spend quality time together.

You and your family can beat the summer heat by taking a dive into any one of the three swimming pools available to the residents 24/7. There is a kiddie pool available, which the perfect place for your children to learn swimming safely. A fitness centre and gym is available to all residents to promote healthy living. There are trained instructors to help you understand various equipment in the fully kitted out fitness centre and gym. You can enjoy a nice quiet meditation session in the meditation area or do yoga in the outdoor yoga areas. A spa with stone massage is also at your disposal to relax your body and to soothe your nerves. For those restless ones, you can shoot some hoops at the outdoor basketball court. The kids can enjoy themselves while swinging around in the children's playground. The playground is a kid's paradise with all the different swings and slides, and at the same time it is completely safe and child proof.

Also available for you is a lounge, where you can enjoy a nice quiet evening after a hard day's work. Outdoor pavilion or function halls can be pre booked to celebrate a special momentous occasion with your family and friends. You will also find that Grace Residences provides you with a commercial area inside the complex itself. Now you can shop for fresh produce, enjoy a coffee date in the café or buy that stationary you so desperately needed all under one roof. Everything that you need now within your reach and literally at your doorstep. Also available is a shuttle service from the gates of Grace Residences to major hot spots nearby.

Add to all this a backup power system and a backup water supply and a central mail system, you will find yourself living in a highly self-sufficient community. With 4 to 6 fast speed lifts with industrial lifting power and great width, you know that moving things up and down the floors is going to be super easy. With a 24/7 reception and intercom system your privacy will be maintained at all times. All areas are wheel chair accessible and provides all the amenities for differently abled individuals.

An amazing crew of property management service providers are always present on site to guide and aid the clients at all times. They are also responsible for continuous and overall upkeep of all the different facilities. This is the dream home with the dream team.

Top- Notch Security
A home is a place where you should feel the safest. At Grace Residences, not only will you find your dream home but you will also find a secure place for you and your family to grow. Round the clock security with the help of trained and armed personnel, patrolling across the whole complex. Gates properly manned at all times with strict guidelines pertaining to entry. CCTV cameras, placed at strategic points, continuously scan the complex to detect any and all types of nefarious business or unidentifiable objects.

Fire detection and alarm systems along with sprinkler systems are installed everywhere, from common rooms to apartments to gyms and fitness centre. The alarm systems ae directly linked to the nearest fire station, alerting the authorities in case of an emergency immediately. There are multiple fire exits which are strategically located along every lobby and hallway, allowing for all wings of the tower access to a nearby exit in case of an emergency. This allows less traffic along the stairways and halls avoiding any cause of stampede. Each of the exits are clearly marked and are lit properly. Hallways and staircases are easily accessible, wide, marked properly and well lit, making the process of evacuation in case of an emergency as simple and hassle free as possible. SMDC is grateful for the clients trust and therefore takes utmost care to ensure the safety of the clients as well as the client's family. Your dream home promises to be the safe suburban oasis you wish and hope for.

Prime Location
Investing in a home is all about investing towards a secure future and a lot of that has to do with the location of the house. A home located in a growing region will continue to give dividends for years to come. Grace Residences is built in Taguig, at the centre of the expansion area of the country's financial capital, Makati City. Situated along the C5 Road and Levi B Mariano Road, Grace Residences is within 15 minute travelling radius of Bonifacio Global City, Makati Central Business District and Ortigas Central Business District. Giving you the best opportunities to be part of the financial development of the country. Now you can focus on your career as well as your family. Making you easily accessible to all the major business districts yet sequestered away from the chaos. You can wave long journeys to and from work goodbye. The time that you spent on the road, now is available to you for relaxing and enjoying life. No more daily struggles regarding work and home life balance. This location is the ideal place for you and your family to relish both sides of the world without any negative ramifications. A calm suburban oasis awaiting your arrival.
Surrounded by various means of transport and by being along major roads, you can travel without any worries. Visit one of the many retail shops for a shopping spree, or take your family out for a movie in one of the many theatres available near you. Go on a gastronomic adventure or a romantic date in the nearby restaurants and cafes. Entertainment awaits close by in the different activity and recreational centres.

Academic institutes are also situated nearby and are easily accessible. Giving your children the best of opportunities close to home itself. Medical emergencies can be taken care of by multiple hospitals located all around the property. A little further north you will find a Heritage Park, ideal for that weekend adventure with your family. Not only is this location catering to your varied needs but it also caters to your different tastes.
A dream home in the ideal spot.


The Home of Your Dreams

The beautiful building architecture, combined with the tasteful décor, Grace Residences is truly the dream home you have been waiting for. With landscaped gardens and well maintained amenities, this is the resort style home you and your family can settle in. An address that gives you the best of everything. A calm, quiet suburban oasis perfect for you to relax and rejuvenate in. You can proudly invest in a future that is bound to give you returns till the end of times. A safe place for you and your family to unwind and grow.

This is where you are meant to be.
Grace Residences offers you an elegant lifestyle along with luxurious facilities and amenities. The property offers four towers in all namely Orchid, Lily, Tulip, and Violet where the units vary in space starting at twenty-two square meters. Grace Residences is located in nearby vicinity of various landmarks including Korean International School, Manila Polo Club, St. Joseph Chapel, Makati Market, SM Aura, Meridian International College, St. Lukes Medical Center, British Schools Manila, Rizal Medical Center, St. Anne Parish, Fort Bonifacio Global Hospital and many others that ease out your life at Grace Residences. The huge community of Grace Residences offers you three large swimming pools such that no pool is ever overcrowded and you can enjoy the cool waters as and when desired. A gymnasium, as well as, a fitness center is present within the property such that you can maintain your fitness while residing at your new home. For the ones who wish to stay fit by heading out for morning and evening jogs and walks, Grace Residences offers a wide jogging trail such that you can enjoy uninterrupted walking and jogging sessions. A functions room is accommodated within the property where you can host parties and functions. These rooms have a good capacity to accommodate your guest list with ease. There is an outdoor basketball court available within the property, hence, the youth and the kids can excel in the sport by indulging in regular playing sessions. Therefore, end your search and book your new home today!
Grace Residences can be found located at the Cayetano Boulevard, Brgy Ususan, in the city of Taguig. These are medium rise residential building complexes which offer residential units of sizes which start at 22 square meters. The price range of each residential units starts at Php 2 Million and more. Grace Residences are owned, controlled and managed by the SMDC. These residential complex developments in Taguig city offers residents luxurious and elegant interiors. Escape away from the stress, pollution, and noises of the city life and find your own haven at Grace Residences. Live harmoniously in style with nature. They offer a quality lifestyle to residents in the city. They are popular all around the country for their complete focus and attention to comfort, lifestyle, and luxury amongst several other things. These residential condo units never disappoint anyone. Invest at the Grace Residences and make your life a luxurious one. They are dedicated to ensuring a premium living, facilities, and amenities to all of their residents. Grace Residents are equipped with swift elevators to take you up and down floors. Good hygiene and security along with surveillance are maintained by them. Buy your dream home which does not crumble and fall to bits in a few years. Get the most durable and long lasting amenities here. And be charmed by the modern tropical designs which are so unique and refreshing. Invest and receive greater value only here. Be charmed by the gardens, and play areas for your kids to mingle and play.

Popular Links
Grace Residences
Grace Residences Location
Grace Residences For Rental Units
Grace Residences Resale Units
Grace Residences Pre-Selling Units
Grace Residences Showroom
Grace Residences Amenities
Grace Residences Price
Grace Residences Contact