Leaf Residences - Preselling Condominium
Premium project of SMDC in Susana Heights Muntinlupa Metro Manila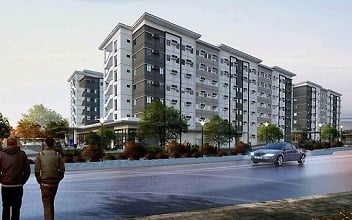 Project Type : Condominium
Listing Type : Preselling
Developer Name : SMDC
Units : Studio, 2 BR,3 BR
Price: ₱ 3,500,000 & Up
Address : Susana Heights, Muntinlupa City
Location : Muntinlupa , Metro Manila PH Leaf Residences SMDC Leaf Residences Leaf Residences SMDC Leaf Residences Muntinlupa
https://www.phsmdcleafresidences.com
The Leaf Residences is a quaint and rustic condo community in the heart of Muntinlupa City, a place where peace and harmony with nature are truly addressed. At this SMDC condo property, every unit owner and guests are valued simply for their comfort and convenience in living in a posh residence with an affordable price. The project's recreational amenities and distinct facilities are well-planned and finely executed up to the last detail. This priceless masterpiece of a condo community features a luxuriant dense forest-like ambiance that is quite unique from any other community developments in the metropolis.
If you can't go to the forest to admire its majesty, the forest will go to you, even to the extent of your home's doorstep. That is what is like in the SMDC Leaf Residences. Feel the natural setting amid an earth-toned facade of the buildings that celebrate the impressive beauty of Mother Earth amidst an urban setting. Additionally, the symmetrical feature of each residential unit, which highlights a high ceiling and finely-built geometrical edges, is in itself a priceless masterpiece.
A typical suite is truly inspiring for its occupants. Additionally, while you are on the ground just lying in the grandiose lobby, you will experience the intimate private gardens with all its glory.
Moreover, each medium-rise building will provide you grand views of different backdrops, such as the Laguna de Bay, the verdant landscape of Laguna, the dazzling lights of Alabang, and the sunken garden of Muntinlupa. Treasure the beauty and affordability of this type of residential development that is the Leaf Residences Susana Heights Muntinlupa City, perhaps you may not see another one of this kind in the future! Live now in style, comfort, and convenience with SMDC. With brilliant amenities and top-of-the-line services, SMDC truly makes your dream home!

Popular Links
Leaf Residences
Leaf Residences Location
Leaf Residences For Rental Units
Leaf Residences Resale Units
Leaf Residences Pre-Selling Units
Leaf Residences Showroom
Leaf Residences Amenities
Leaf Residences Price
Leaf Residences Contact
Leaf Residences SMDC For Sale Price List

| Unit Name | Project Name | Developer | Price (₱) | Location |
| --- | --- | --- | --- | --- |
| Studio End Unit | Leaf Residences | SMDC | 3,500,000 | Susana Heights in Muntinlupa, Metro Manila |
| 2 Bedroom | Leaf Residences | SMDC | 3,800,000 | Susana Heights in Muntinlupa, Metro Manila |
| 2 Bedroom End Unit | Leaf Residences | SMDC | 4,700,000 | Susana Heights in Muntinlupa, Metro Manila |
| 2 Bedroom + Balcony | Leaf Residences | SMDC | 6,100,000 | Susana Heights in Muntinlupa, Metro Manila |
| 3 Bedroom | Leaf Residences | SMDC | 6,500,000 | Susana Heights in Muntinlupa, Metro Manila |