4 Mandaue House & Lot For Sale With Price
19 Units - Rent To Own, Preselling, Ready For Occupancy Projects For Sale or Rent
0 Featured Properties Found
4 Additional Properties Found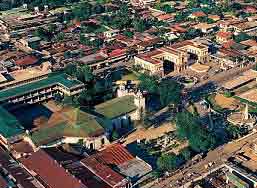 Mandaue
Mandaue is a 1st city income class highly urbanized city in the region of Central Visayas, Philippines. It is one of three highly urbanized cities on Cebu island and forms a part of the Cebu Metropolitan area.
About 40 percent of Cebu's export companies are found in Mandaue. The city is dubbed as the industrial hub of Region VII and hosts about 10,000 industrial and commercial businesses, making it a "little rich city" in the country. It is home to some of the world's biggest companies such as San Miguel Corp., Coca-cola Bottling Corp. and Shemberg, the number one exporter of carrageenan. Mandaue City also accounts for 75 percent of the country's total exports in the furniture sector, making the city the furniture capital of the country.
Mandaue's point of interests, destinations, and attractions include Natural areas such as Monkey Caves, Casili Hills, museums such as 856 G Gallery and Quijano Museum, historical locations such as Bantayan Sa Hari and Parks such as City Plaza, Bridge Park and Garden Centre.
Mandaue City's road network is composed of a national highway which connects the city to its neighboring cities and municipalities, and a national secondary road which traverses the city's metropolitan area.
Mandaue Cebu Condo and House & Lot Price List

Property Name
Price (₱)
Location
Amaia Steps Mandaue
₱

2,900,000

Mandaue, Cebu
Almiya
₱

3,000,000

Mandaue, Cebu
Mandani Bay
₱

29,750,000

Mandaue, Cebu
North Star Condominium
₱

2,900,000

Mandaue, Cebu