The Lerato - Preselling Condominium
Premium project of Alveo Land in Circuit Makati Makati Metro Manila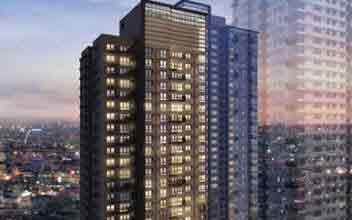 Project Type : Condominium
Listing Type : Preselling
Developer Name : Alveo Land
Units : Studio, 1 BR, 2 BR
Price: ₱ 3,190,000 & Up
Address : Barangay Bel-Air, Malugay St., Makati City.
Location : Makati , Metro Manila PH The Lerato Alveo Land The Lerato The Lerato Alveo Land The Lerato Makati
https://theleratomakati.phproperty.com/
The Lerato is located across the Barangay Bel Air in Malugay St in the beautiful city of Makati and is developed by Alveo Land. The complex is close to the hustle of the city and creates an aura of positivity with its jaw dropping infrastructure. The high rise condos have integration of unique amenity named "The Shops at Lerato" which has boutiques adding convenience for residents.
It is close to the Central Business District Makati and is easily accessible through major routes and roads. It is elegantly designed 3 tower building with 24 to 48 residential floors consisting of studio unit, 1 BR and 2-BR units. The studio unit measures around 30 square meters, 1 BR measures 48 sq. m and 2-BR measures 78 square meters.
Tower 1 has amenities like work out studio, meditation room, game room and roof deck, Tower 2 has amenities like function rooms, music room, kids art room and tower 3 has amenities like mega function room, culinary studio and enterprise lounge. The common outdoor amenities include a lap pool, adult & kiddie pool, wooden lounge deck, open lawn, playground for children, outdoor garden, stage reading corners, meditation room, yoga area, jogging trail, water supply and uninterrupted Wi-Fi connectivity. It is true that in life, entertainment, comfort and leisure are the right blends to optimum living and with Lerato residential condominium everything is available under the same roof. It has schools like DLSU Graduate Business School, Far Eastern University, Mapua Institute of Technology, Assumption College etc., hospitals like Trinity Hospital, Philippine Hospital, Makati Medical Center etc., malls, retail stores, banks, restaurants etc. all in close proximity.

Popular Links
The Lerato
The Lerato Location
The Lerato For Rental Units
The Lerato Resale Units
The Lerato Pre-Selling Units
The Lerato Showroom
The Lerato Amenities
The Lerato Price
The Lerato Contact
The Lerato Alveo Land For Sale Price List

| Unit Name | Project Name | Developer | Price (₱) | Location |
| --- | --- | --- | --- | --- |
| 34 SQM Studio Unit | The Lerato | Alveo Land | 35,000 | Makati, Metro Manila |
| 1 BR Condo | The Lerato | Alveo Land | 41,000 | Makati, Metro Manila |
| 1 BR Condo | The Lerato | Alveo Land | 55,000 | Makati, Metro Manila |
| Studio Unit (Tower 1) | The Lerato | Alveo Land | 3,200,000 | Makati, Metro Manila |
| Studio Unit (Tower 2) | The Lerato | Alveo Land | 3,200,000 | Makati, Metro Manila |
| Studio Unit (Tower 3) | The Lerato | Alveo Land | 3,200,000 | Makati, Metro Manila |
| 1 Bedroom (Tower 1) | The Lerato | Alveo Land | 3,200,000 | Makati, Metro Manila |
| 1 Bedroom (Tower 2) | The Lerato | Alveo Land | 3,200,000 | Makati, Metro Manila |
| 1 Bedroom (Tower 3) | The Lerato | Alveo Land | 3,200,000 | Makati, Metro Manila |
| 2 Bedroom (Tower 2) | The Lerato | Alveo Land | 3,200,000 | Makati, Metro Manila |
| 2 Bedroom (Tower 3) | The Lerato | Alveo Land | 3,200,000 | Makati, Metro Manila |
| 3 Bedroom Penthouse (Tower 3) | The Lerato | Alveo Land | 3,200,000 | Makati, Metro Manila |
| 1 BR Condo | The Lerato | Alveo Land | 9,500,000 | Makati, Metro Manila |