Mirea Residences - Preselling Condominium
Premium project of DMCI in Santolan Pasig Metro Manila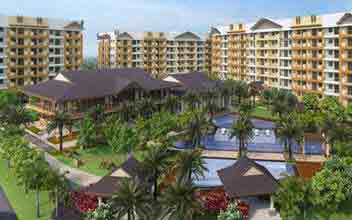 Project Type : Condominium
Listing Type : Preselling
Developer Name : DMCI
Units : 2 BR, 3 BR
Price: ₱ 4,172,600 & Up
Address : Amang Rodriguez Avenue, Santolan,
Location : Pasig , Metro Manila PH Mirea Residences DMCI Mirea Residences Mirea Residences DMCI Mirea Residences Pasig
https://dmcimirearesidences.phproperty.com/
The Mirea Residences is located along the Amang Rodriquez Avenue at Santolan in Pasig City and is perfect dwelling space breaking the daily monotony. It is an amenity rich residential condominium suitable for young professionals as well as families and inspired by resort styled theme. It is a mid-rise complex with a total of 8 buildings out of which five of them have 6 floors and three have 7 floors. There is enough open space around the complex to help on relax. It can be reached via all major routes and is convenient in terms of its close proximity to public transport system.
It is a pure haven for shopping lovers with SM Megamall, SM Savemore, SM Pasig Supercenter, Sta. Lucia Mall etc. all in close proximity. The residence is not far from several business district centers like that of Makati, Eastwood, Ortigas etc. The place is an advantage to students with St. Paul College and the University of Asia and the Pacific and other schools located in close vicinity. The architecture is neo-Asian styled and is beautifully surrounded by lush green landscapes.
It is the perfect place if you want to spend some great family time with friends and families as the complex consists of open lawns, picnic groves, grill pits etc. The low-density residential complex ensures that you are away from the loudness of the city. With modern amenities like swimming pool, fitness area, basketball & badminton court, clubhouse, laundry station, playground for children, pool deck etc. the place is no short of comfort to the residents.

Popular Links
Mirea Residences
Mirea Residences Location
Mirea Residences For Rental Units
Mirea Residences Resale Units
Mirea Residences Pre-Selling Units
Mirea Residences Showroom
Mirea Residences Amenities
Mirea Residences Price
Mirea Residences Contact
Mirea Residences DMCI For Sale Price List

| Unit Name | Project Name | Developer | Price (₱) | Location |
| --- | --- | --- | --- | --- |
| 2 Bedroom With Balcony Maia (August 2017) | Mirea Residences | DMCI | 3,231,000 | Pasig, Metro Manila |
| 2 Bedroom With Balcony Vespera (February 2018) | Mirea Residences | DMCI | 3,291,000 | Pasig, Metro Manila |
| 2 Bedroom With Balcony Sitara (August 2017) | Mirea Residences | DMCI | 3,320,000 | Pasig, Metro Manila |
| 2 Bedroom With Balcony Selenia (August 2018) | Mirea Residences | DMCI | 3,383,000 | Pasig, Metro Manila |
| 2 Bedroom With Balcony Solana (February 2019) | Mirea Residences | DMCI | 3,454,000 | Pasig, Metro Manila |
| 2 Bedroom | Mirea Residences | DMCI | 4,172,600 | Pasig, Metro Manila |
| 3 Bedroom With Balcony Maia (August 2017) | Mirea Residences | DMCI | 4,385,000 | Pasig, Metro Manila |
| 3 Bedroom With Balcony Vespera (February 2018) | Mirea Residences | DMCI | 4,397,000 | Pasig, Metro Manila |
| 3 Bedroom With Balcony Sitara (August 2017) | Mirea Residences | DMCI | 4,518,000 | Pasig, Metro Manila |
| 3 Bedroom With Balcony Selenia (August 2018) | Mirea Residences | DMCI | 4,563,000 | Pasig, Metro Manila |
| 3 Bedroom | Mirea Residences | DMCI | 4,600,000 | Pasig, Metro Manila |
| 3 Bedroom With Balcony Solana (February 2019) | Mirea Residences | DMCI | 4,661,000 | Pasig, Metro Manila |