La Brisa Townhomes - Preselling House & Lot
Premium project of Filinvest in Ciudad de Calamba Calamba Laguna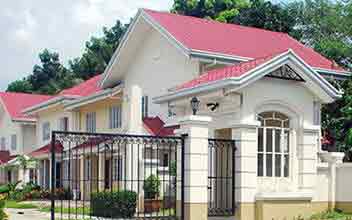 Project Type : House & Lot
Listing Type : Preselling
Developer Name : Filinvest
Units : House & Lot
Price: ₱ 0 & Up
Address : Ciudad de Calamba, Barangay Punta
Location : Calamba , Laguna PH La Brisa Townhomes Filinvest La Brisa Townhomes La Brisa Townhomes Filinvest La Brisa Townhomes Calamba
https://labrisatownhomes.phproperty.com/
The Ciudad de Calamba is a collection of residential developments sprawled through 300 hectares of rolling terrain amidst the backdrop of the Mt. Makiling, the mythical and mystical mountain off the landscape of Laguna. The La Brisa Townhomes lies here with grandeur and all its majestic beauty typifying the luxury of living, without the high-end tag price.

The La Brisa Townhomes, which is occupying 4,943sqm of rolling terrain, is designed to be a cost-effective investment wherein homeowners could take advantage of having an affordable but high-quality home and to have an opportunity to be involved in "home for rent" business.

This Spanish inspired community is located within the proximity of the city's industrial estates. The residential development project is located inside the Ciudad de Calamba, Brgy. Punta, Calamba, Laguna. The project is a house and lot (or lot only) package.

Owners will have the chance to also take advantage of the influx of broad wage earners, professionals and other personnel at the nearby FTPC (Filinvest Technology Park Corporation) and other industrial parks, which offer housing privileges to their employees.

It is the first of its kind in townhomes development in Ciudad de Calamba that allowed this scheme. This venture is so valuable and entails good potential for homeowners who would like to take this opportunity because of the site's accessibility to almost all of the said estates.

Houses have sizes ranging from 44 to 257sqm of floor area while lot area has sizes that range from 48 to 72sqm for townhomes in cluster. Commercial lots have sizes ranging from 183 to 356sqm.

House model is typically of the P750-4G type in 2-Storey Townhomes with 4 and 6 units per cluster. There are 2-BR per unit with 1 T&B; provision for living, dining and kitchen areas porch, service area and patio.

The amenities and features are awesome, such as gated entrance with guard house, patio green, village patio, swimming pool, basketball court, jogging path, clubhouse, centralized water supply system, main road at 10 meters wide and perimeter fence.

Various learning institutions and schools are near the site, the likes of Asian Computer College, St. James College, Colegio de San Juan de Letran, University of Perpetual Help, Calamba Institute, Miriam College, Lyceum of the Philippines University, and the Lyceum Institute of Technology, to name a few.

Hospitals could easily be reached through the medium traffic Maharlika Highway, such as the JP Rizal Memorial Hospital, Calamba Medical Center, San Jose Hospital, Gamez General Hospital and the Calamba Doctors' Hospital.

There are surely had entertainment and shopping centers within the La Brisa Townhomes' immediate vicinity, the likes of Llanas Supermarket, Carmen Mall, Checkpoint Mall, Walter Mart Makiling, iMall Canlubang, SM City Calamba and the Centro Mall Cabuyao.

Aside from FTPC, there are more than dozens of industrial parks and estates on this part of Calamba which employ hundreds of thousands of people, not mentioning those from other Laguna cities nearby.
Popular Links
La Brisa Townhomes
La Brisa Townhomes Location
La Brisa Townhomes For Rental Units
La Brisa Townhomes Resale Units
La Brisa Townhomes Pre-Selling Units
La Brisa Townhomes Showroom
La Brisa Townhomes Amenities
La Brisa Townhomes Price
La Brisa Townhomes Contact
La Brisa Townhomes Filinvest For Sale Price List

| Unit Name | Project Name | Developer | Price (₱) | Location |
| --- | --- | --- | --- | --- |
| Townhouse | La Brisa Townhomes | Filinvest | 0 | Ciudad de Calamba in Calamba, Laguna |
| 4 Bedrooms | La Brisa Townhomes | Filinvest | 0 | Ciudad de Calamba in Calamba, Laguna |