Punta Altezza - Ready For Occupancy Lot Only
Premium project of Filinvest in Punta Calamba Laguna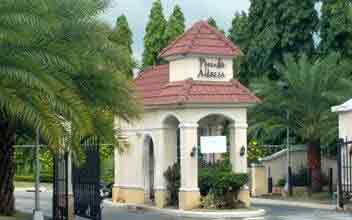 Project Type : Lot Only
Listing Type : Ready For Occupancy
Developer Name : Filinvest
Units : Lot,
Price: ₱ 1,200,000 & Up
Address : Ciudad de Calamba, Barangay Punta,
Location : Calamba , Laguna PH Punta Altezza Filinvest Punta Altezza Punta Altezza Filinvest Punta Altezza Calamba
https://puntaaltezza.phproperty.com/
Calamba City, the hometown of national hero Jose Rizal, is getting bigger and bigger, not in size but in value and its community. Here, The Punta Altezza Calamba is also growing bigger in value and in functionality. A very effective developed community in the heart of Laguna!

Calamba City, Laguna is also home to Filinvest Land's Ciudad de Calamba (literally means, City of Calamba), a vast township culminating modern Filipino-Hispanic inspired architectural design community sprawled through 350 hectares of ideal land which is virtually flood-free amidst the majestic Mt. Makiling on its background.

The project is located in Ciudad de Calamba Township, Brgy. Punta, Calamba City, Laguna. This neighborhood sits near the city's numerous industrial and commercial complexes.

The township is a true adherence of the live, work and play concept, where homeowners can live harmoniously in this village while working on the same or near the place and consequently relax and do recreations on the same abode.

Punta Altezza is home to this township, a vast 9.50 hectares of house and lot (or lot only) package community development that celebrates nature as its theme while the city has still an abundance of flora and fauna tucked under its hidden semi-forest. Set against the Mt. Makiling Forest Reserved located only a few kilometers on the southeast, this adds up to the cool breeze within the property.

The offered lots have sizes ranging from 86 to 145sqm while the houses have sizes ranging from 90 to 157sqm of floor area. House models have 5 elegant models of the Hardwood Series (Aspen, Banyan, Magnolia, Molave and Redwood).

Constructions are of the Bungalow and 2-Story Single Detached types with 2-3 bedrooms depending on models; 1-2 T&B, with living, dining and kitchen (with counter top) areas. Selected models have provisions for up to 2 carports, balcony, hallway, terrace, roof deck and stairways. The houses are really spacious and one of the largest in the industry.

The amenities and features are the envy of some homeowners from different development sites, such as parks and playground, training center, swimming pool, basketball court, jogging trails, picnic areas, clubhouse, themed-wall entrance, entrance gate with guard house, tree-lined roads, underground drainage system, wide road right of way (8-12 meters) and so much more!

Prominent schools surround the Punta Altezza, the likes of Letran Calamba, University of Perpetual Help, and Polytechnic University of the Philippines, ENLI Calamba, St. James College, Calamba Institute, Lyceum of the Philippines University, Asian Computer College and Canossa College.

Hospitals within the site are also reachable within minutes through the low-traffic volume Maharlika Highway, such as the San Jose Hospital, Calamba Doctors' Hospital, Pamana Medical Center, Calamba Medical Center, JP Rizal Memorial Hospital and the Gamez Hospital, among others.

Entertainment and shopping centers are thriving in this city and some are too near the site, like LLanas Supermarket, SM City Calamba, and Walter Mart Makiling, iMall Canlubang, Checkpoint Mall and Centro Mall Cabuyao.

The growing city is also home to the following industrial zones and eco-parks: Samsung Calamba, Calamba Premier Industrial Park, Carmelray Industrial Park and Nestle Philippines. Live, work and play at The Punta Altezza Calamba.
Popular Links
Punta Altezza
Punta Altezza Location
Punta Altezza For Rental Units
Punta Altezza Resale Units
Punta Altezza Pre-Selling Units
Punta Altezza Showroom
Punta Altezza Amenities
Punta Altezza Price
Punta Altezza Contact