Mactan Belmont Luxury Hotel - Preselling Condominium
Premium project of Megaworld in Lapu Lapu Cebu
Mactan Belmont Luxury Hotel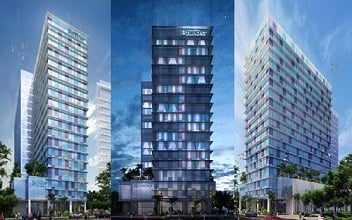 Project Type : Condominium
Listing Type : Preselling
Developer Name : Megaworld
Units : Suite
Price: ₱ 6,125,000 & Up
Address : Lapu-Lapu City, Cebu
Location : Lapu Lapu , Cebu PH Mactan Belmont Luxury Hotel Megaworld Mactan Belmont Luxury Hotel Mactan Belmont Luxury Hotel Megaworld Mactan Belmont Luxury Hotel Lapu Lapu
https://www.belmontmactan.com
The Mactan Belmont Luxury Hotel Cebu is one of Megaworld Corp.'s 5 luxury hotels within its nearly 30-hectare township development known as the Mactan Newtown. Megaworld is a property unit of tycoon Andrew Tan which is building the 5 luxury hotels in Mactan Newtown costing about Php8 billion. The hotels would offer a total of 2,000 rooms, which would cater to the growing number of tourists going to Cebu. More and more tourists are trooping to Mactan Island year after year. Megaworld is hoping to provide more exciting facilities that will further boost the tourism in the region.

The Mactan Belmont Luxury Hotel, which will be run and operated by Prestige Hotels & Resorts, Inc., said during the launching of the hotel that the condotel will cater to both local and foreign tourists and guests. Data from the tourism department showed that in March alone, 119,265 tourists flew in to Cebu (representing 18.52% of the whole foreign arrivals during that month). Aside from the remarkable number of South Koreans (15%) visiting Cebu, the influx of tourists from China is increasing at an unprecedented rate (9%); followed by the Japanese (8%); Americans (6%); Europeans (5%); and mixed nationalities (31%). Local tourists comprised more than 20% of the arrivals in Cebu in the first quarter of 2018.

With these interesting figures coming from the most respectable agency in the Philippine tourism industry, your investment at the Mactan Belmont Luxury Hotel Cebu will be definitely a dream come true.
Popular Links
Mactan Belmont Luxury Hotel
Mactan Belmont Luxury Hotel Location
Mactan Belmont Luxury Hotel For Rental Units
Mactan Belmont Luxury Hotel Resale Units
Mactan Belmont Luxury Hotel Pre-Selling Units
Mactan Belmont Luxury Hotel Showroom
Mactan Belmont Luxury Hotel Amenities
Mactan Belmont Luxury Hotel Price
Mactan Belmont Luxury Hotel Contact
Mactan Belmont Luxury Hotel Megaworld For Sale Price List

| Unit Name | Project Name | Developer | Price (₱) | Location |
| --- | --- | --- | --- | --- |
| Twin Suite | Mactan Belmont Luxury Hotel | Megaworld | 6,125,000 | Lapu Lapu, Cebu |
| Twin Suite | Mactan Belmont Luxury Hotel | Megaworld | 6,500,000 | Lapu Lapu, Cebu |
| Queen Suite | Mactan Belmont Luxury Hotel | Megaworld | 6,750,000 | Lapu Lapu, Cebu |
| Specially-Abled Suite | Mactan Belmont Luxury Hotel | Megaworld | 9,000,000 | Lapu Lapu, Cebu |