Gem Residences - Preselling Condominium
Premium project of SMDC in Ugong Pasig Metro Manila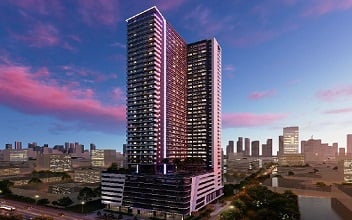 Project Type : Condominium
Listing Type : Preselling
Developer Name : SMDC
Units : 1 BR
Price: ₱ 5,000,000 & Up
Address : E. Rodriguez Ave. (C-5) cor. J. Cruz St.
Location : Pasig , Metro Manila PH Gem Residences SMDC Gem Residences Gem Residences SMDC Gem Residences Pasig
https://www.phsmdcgemresidences.com/
Gem Residences – is one of the most recent highly anticipated projects of SMDC right in the heart of Pasig City. It is suitably located along C-5 Road in Pasig City – a stone's throw away from the biggest malls, best leisure places, top educational institutions, good hospitals and progressive business districts.
Gem Residences is a single story high-rise residential condominium that will provide a beautiful landscape to this progressive city. Residents who aspire for a secured and comfortable lifestyle need not look far. This project's promise of a distinctive flair for good living is unmatched. With a host of topnotch facilities and amenities – you will never want more. Enjoy a relaxed, leisurely lifestyle with what they have to offer right in your own home. Care to do work-outs, swim, play or just bask in the sunset while you spend precious time with love ones? Everything is just a possibility waiting for you.
Imagine the picturesque skyline views and refreshing greens around you. Modern life's conveniences are a few minutes away. In today's fast pace of life – convenient and easy access to what we need is what we should have all the time. You will not be wanting in work opportunities as well since it has easy access to popular business districts and centers. All routes are smooth and fast so there's extra time to bond and enjoy with love ones at home. You will never have traffic woes. Stress-free life? You bet!
So, put your money in a wise investment like a beautiful home at Gem Residences. Give your family the luxurious yet relaxed lifestyle they want. A cozy, comfortable home right at the heart of an urban city teeming with a lot of opportunities. A property that's surely will appreciate over the years - a precious legacy to your children.


Popular Links
Gem Residences
Gem Residences Location
Gem Residences For Rent Units
Gem Residences Resale Units
Gem Residences Pre-Selling Units
Gem Residences Showroom
Gem Residences Amenities
Gem Residences Price
Gem Residences Contact
Gem Residences SMDC For Sale Price List

| Unit Name | Project Name | Developer | Price (₱) | Location |
| --- | --- | --- | --- | --- |
| 1 Bedroom | Gem Residences | SMDC | 5,000,000 | Pasig, Metro Manila |
| 1 Bed End Unit | Gem Residences | SMDC | 6,100,000 | Pasig, Metro Manila |
| 1 Bed Unit + Balcony | Gem Residences | SMDC | 7,000,000 | Pasig, Metro Manila |
| 1 Bed Deluxe | Gem Residences | SMDC | 7,900,000 | Pasig, Metro Manila |