The Estate Makati - Preselling Condominium
Premium project of SMDC in Ayala Avenue Makati Metro Manila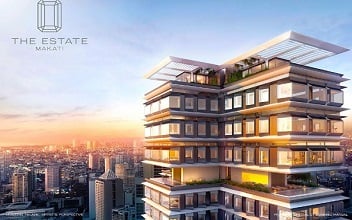 Project Type : Condominium
Listing Type : Preselling
Developer Name : SMDC
Units : 2BR, 3BR and Penthouse
Price: ₱ 87,700,000 & Up
Address : 6747 Ayala Avenue, Makati City, Metro Manila
Location : Makati , Metro Manila PH The Estate Makati SMDC The Estate Makati The Estate Makati SMDC The Estate Makati Makati
https://www.phsmdcestatemakati.com/
The Estate Makati is a joint venture between two giants of the industry; SM Development Corporation (SMDC) and Federal Land. With these combined forces, the joint venture gives you the most luxurious condominium development in Makati via The Estate Makati along Ayala Avenue.

The Estate Makati is the first of its kind in the industry wherein the project was designed by the British architectural firm Foster + Partners, one of the world's most seek-after designers and architects. The cruciform designed The Estate Makati is thus far the most luxurious condo development in the heart of Makati but still could offer the best breathing spaces with its offering of 2-bedroom, 3-bedroom, and 4-bedroom Penthouse units all under one roof.

The single tower The Estate Makati is a 53-story residential condo offering just 188 bespoke residential suites that range in size from 151.10sqm to 764sqm, the first-of-its-kind in Makati. The larger units are made possible because of the units' design of minimizing the column, the building's cruciform shape, the angle of the double-glazed windows, and other top-notch technology adopted by the designers.

The Estate Makati is located at the heart of Makati's central business district, which is the Ayala Avenue. This prime location will make your unit at The Estate Makati your biggest asset comes rain or shine.
The Estate Makati SMDC For Sale Price List

| Unit Name | Project Name | Developer | Price (₱) | Location |
| --- | --- | --- | --- | --- |
| 2 Bedroom | The Estate Makati | SMDC | 87,700,000 | Ayala Avenue in Makati, Metro Manila |
| 3 Bedroom | The Estate Makati | SMDC | 103,900,000 | Ayala Avenue in Makati, Metro Manila |
| 3 Bedroom Premier | The Estate Makati | SMDC | 126,300,000 | Ayala Avenue in Makati, Metro Manila |
| Sub Penthouse | The Estate Makati | SMDC | 211,200,000 | Ayala Avenue in Makati, Metro Manila |
| Super Penthouse | The Estate Makati | SMDC | 326,600,000 | Ayala Avenue in Makati, Metro Manila |