Urban Deca Homes Ortigas - Preselling Condominium
Premium project of 8990 Holdings Inc in Rosario Pasig Metro Manila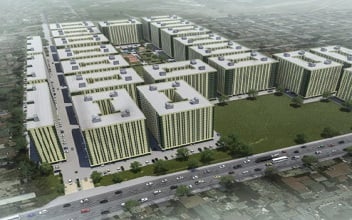 Project Type : Condominium
Listing Type : Preselling
Developer Name : 8990 Holdings Inc
Units : 2BR, 3BR
Price: ₱ 2,900,000 & Up
Address : Ortigas Avenue Ext. Barangay Rosario, Pasig City
Location : Pasig , Metro Manila PH Urban Deca Homes Ortigas 8990 Holdings Inc Urban Deca Homes Ortigas Urban Deca Homes Ortigas 8990 Holdings Inc Urban Deca Homes Ortigas Pasig
https://urbandecahomesortigas.buydecahomes.com/
The Urban Deca Homes Ortigas Pasig City is 8990 Holdings, Inc. gift to every hardworking Filipinos who want to have their classy home in the center of the city; all with its conveniences and modernity. The Urban Deca Homes is a luxurious but a mass-housing project consisting of medium-rise residential buildings along Ortigas Avenue Extension in Pasig City.
The Urban Deca Homes Ortigas though could be paid via Pag-Ibig and other flexible payment schemes is a modern township that sits in a 13-hectare prime property near the Ortigas Center. The company alone allocates 1.3 hectares of this property only for vast open and landscaped spaces so you could breathe the freshest air despite living in a crowded metropolis.
The Urban Deca Homes Ortigas is primarily made up of 22 medium-rise buildings offering more than 19,000 residential units that will cater to most workers in Quezon City, Libis, Eastwood, and Mandaluyong City. Units at stake have sizes ranging from 30.6 to 42sqm. The units range from Two-bedroom to Three-bedroom units with brilliant layouts and the finest deliverables during the turnover date.
The Urban Deca Homes- Ortigas Avenue Extension is still on its pre-selling stage and has the lowest monthly amortizations (some units can be as low as Php 5, 000 in monthly amortization). The company had tagged the Megawide Construction Corp. as the project's contractor. This property development is currently the largest project of 8990 Holdings and has an expected completion date of 2022.
The Urban Deca Homes Pasig City is just a spit away from the Ortigas Center and just a walking distance to some of Pasig's financial and commercial institutions. Moreover, some schools, churches, shopping centers, and other points of interest are just a few minutes away. Now, you can appreciate living in a busy thoroughfare but still enjoy the privilege of living within a tranquil and friendly neighborhood as the Urban Deca Homes is designed to mimic a home far away from all the buzz and fuzz of the city.


Popular Links

Urban Deca Homes Ortigas
Urban Deca Homes Ortigas Location
Urban Deca Homes Ortigas For Rental Units
Urban Deca Homes Ortigas Resale Units
Urban Deca Homes Ortigas Pre-Selling Units
Urban Deca Homes Ortigas Showroom
Urban Deca Homes Ortigas Amenities
Urban Deca Homes Ortigas Price
Urban Deca Homes Ortigas Contact