Cirrus - Preselling Condominium
Premium project of Robinsons Land in Rosario Pasig Metro Manila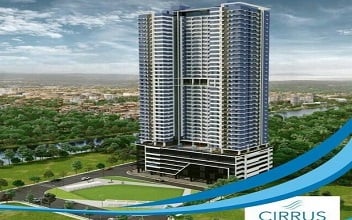 Project Type : Condominium
Listing Type : Preselling
Developer Name : Robinsons Land
Units : Studio
Price: ₱ 3,700,000 & Up
Address : Bridgetowne East, Barangay Rosario, Pasig City
Location : Pasig , Metro Manila PH Cirrus Robinsons Land Cirrus Cirrus Robinsons Land Cirrus Pasig
https://www.cirruspasig.com/
The Cirrus Pasig is one of Bridgetowne East Pasig City's mixed-use condominium properties to rise near the various key central business districts of Ortigas Center, Mandaluyong, Marikina, and Quezon City. This amazing residential development is another project of Robinsons Land Corp. (RLC), in partnership with the Hong Kong Land Group (HKLG). The single tower Cirrus is comprised of 40 floors of residential units along with commercial areas, amenity floors, basement and level parking, and a whole lot more exciting features. This resort-style residential development is practically seldom seen in Brgy. Rosario, Pasig City.

The Cirrus at Bridgetowne East will sit on a 2,768sqm of land as part of the Bridgetowne East Township. There would be a total of 1,371 Studio Units on offer for sale or for lease at the Cirrus with a wide array of floor area sizes (24 to 26sqm). The units come complete and are ready for occupancy when turn over time arrives. Investors will have a grand time utilizing their units for personal use or rented it out for other end users to give unit owners perpetual monthly income for the rest of their lives. Units can be paid through various flexible terms (standard scheme, cash scheme or deferred scheme) which will further lighten the burden in paying for a unit. Moreover, once you own a unit, it's up to you if you will use it personally or choose the rental option which could make you more financially stable in the long run.

The Cirrus at Bridgetowne East Pasig City is both good for living and business. This RLC project is definitely a good way to start for a better life. At the Cirrus Bridgetown East, it's certainly life is awesome at the top!
Cirrus Robinsons Land For Sale Price List

| Unit Name | Project Name | Developer | Price (₱) | Location |
| --- | --- | --- | --- | --- |
| Studio | Cirrus | Robinsons Land | 3,700,000 | Pasig, Metro Manila |