27 Annapolis - Preselling Condominium
Premium project of Bayswater Realty in Greenhills San Juan Metro Manila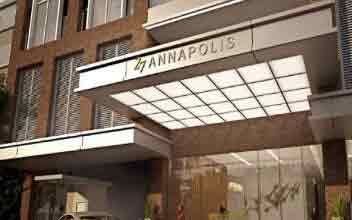 Project Type : Condominium
Listing Type : Preselling
Developer Name : Bayswater Realty
Units : Studio, 2 BR, 3 BR,
Price: ₱ 8,316,000 & Up
Address : 27 Annapolis, Brgy. Greenhills,
Location : San Juan , Metro Manila PH 27 Annapolis Bayswater Realty 27 Annapolis 27 Annapolis Bayswater Realty 27 Annapolis San Juan
https://www.bayswaterrealty.com
A very secure environment within concrete, glass and steel walls of the 27 Annapolis San Juan, succumb to the luxury, elegance and comfortable living experience of a lifetime. Your life begins here at the most strategic place in San Juan, Metro Manila. It's not magic, just pure 45-strorey building standing next to prosperity. Embrace life's greatest pleasure; anyway, it only comes once in a lifetime.
27 Annapolis is a one-tower condominium community that will certainly break your usual monotonous daily routine as it offers lifestyle-changing atmosphere through its first-class amenities and facilities. The project is situated in 27 Annapolis St., Brgy. Greenhills, San Juan City. Burst into life's low density occupation as this residential sanctuary only offers 4 units per floor, with total units being offered at only 124 three-bedroom residential suites. The privacy is outrageous; you live to witness serenity at its best and at the busiest location, at that!
Designed and built by Bayswater Realty who believes "life is a fleeting moments that we all need to enjoy". The project is surely enjoyable and pleasurable making life easier for you and your children as everything the family needs is within arms' length like schools, churches, cinemas, shopping centers, entertainment and leisure centers, workplaces, hospitals and other important destinations.
Popular Links
27 Annapolis
27 Annapolis Location
27 Annapolis For Rental Units
27 Annapolis Resale Units
27 Annapolis Pre-Selling Units
27 Annapolis Showroom
27 Annapolis Amenities
27 Annapolis Price
27 Annapolis Contact
27 Annapolis Bayswater Realty For Sale Price List

| Unit Name | Project Name | Developer | Price (₱) | Location |
| --- | --- | --- | --- | --- |
| Studio Unit | 27 Annapolis | Bayswater Realty | 8,316,000 | San Juan, Metro Manila |
| 2 Bedrooms | 27 Annapolis | Bayswater Realty | 24,028,000 | San Juan, Metro Manila |
| 3 Bedrooms | 27 Annapolis | Bayswater Realty | 31,666,000 | San Juan, Metro Manila |