Fortune Hill - Preselling Condominium
Premium project of Filinvest in Addition Hills San Juan Metro Manila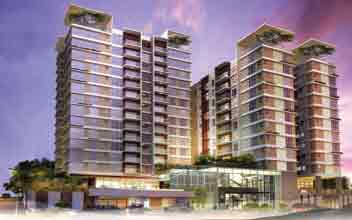 Project Type : Condominium
Listing Type : Preselling
Developer Name : Filinvest
Units : 2 BR, 3 BR,
Price: ₱ 8,000,000 & Up
Address : 173 P. Gomez St., Brgy. Addition Hills,
Location : San Juan , Metro Manila PH Fortune Hill Filinvest Fortune Hill Fortune Hill Filinvest Fortune Hill San Juan
https://www.fortunehillfilinvest.com
Fortune Hill is a new mesmerizing masterpiece created by Filinvest. It is located in a very serene place where you can find harmony very easily. The iconic architecture is a mix of a modern elegant aesthetic and the beautiful Chinese tradition. Asian architecture is reflected in the architectural design with a lot of amenities to ensure the privacy and comfort of their exclusive clientele. Most of their amenities are family-oriented, and the location is very private in a low-density community. The Fortune Hill is the latest jewel that sprouts out in the neighborhood of San Juan in one of the best locations in the metro. Filinvest made sure they provided the most elegance they could give. It is located at 173 P. Gomez Street. Brgy Addition Hills, San Juan. Fortune Hill is located in a central area that makes it accessible to most major thoroughfares; it is also placed in the central business district of Makati, Quezon City, and Ortigas. Your workplace will be at a very proximity to your home.

The best high-end brand property developer in the Philippines that is Filinvest Land Inc. decided to go out of their comfort zone to create a condominium made out of the pure Asian culture and place it in the fabulous location in the central district. Fortune Hill, the Asian-inspired architecture has a very low density and comprises of just two towers that are just 12 and 15 stories high. There are only four units in a floor; therefore, exclusivity is guaranteed. The Fortune Hills has a total of 92 units with different sizes ranging from 94 to 150 SQM. It consists of one to three bedrooms with each groups owning two parking slots in the three-level basement parking of the community.

Another condo envies the central location of Fortune Hill for many reasons. The first reason is that it is in the middle of three central business district that is Ortigas, Quezon City, and Makati City. Another reason is that it is close to a lot of offices and schools for the comforts of its residents. If you are a family man in the Philippines and you are looking for a place that will favor you and your family then the Fortune Hills is the best place for you.
Fortune Hills has a lot of amenities that sets another benchmark for luxury. It showcases an array of modern amenities for the resident to enjoy. They include a fitness gym and a meditation garden. There are also facilities for the children like the day care center and the children's playground. Other amenities include the 20-meter lap pool, a library for the students, a mini theater and an infinity pool.

Fortune Hill has a lot of safety and security features to make you be at peace with your residents. The most important safety feature is the 4 point Keycard security system that gives you and exclusive access to your burglar proof resident. The elevator parking lobbies also need card access before entry; these provide safety for your luxurious cars. There is a 24 hours administrative office in the building coupled up with a security command center to cater for all your needs about the apartment. A Closed Circuit TV (CCTV ) is available in selected area for 24/7 surveillance of the whole building. There is a fully automatic fire alarm system coupled up with sprinklers in case of fire emergency. Fire extinguishers and fire hose are also provided on every floor, and pressurized fire escape stairs are given to reduce any fatal fire incident. A shuttle service is provided for your children going to nearby school for easy and safe movement. The elegant building has beautiful exteriors that were thoughtfully planned to provide you with ultimate privacy and security. With all aspects of your home carefully designed, you can easily enjoy and focus on other things that count. Spend quality time with the people that matter in your life.

There is a lot of premier educational institutes available in Fortune Hill; they include Immaculate Conception Academy, Xavier school, Jubilee Christian Academy, Saint Pedro Poveda College and La Salle Greenhills. All these schools are just some minutes away from Fortune Hill. Your children will be able to walk to their prestigious school easily, eat their breakfast without rush, and come home without you being afraid of automobile incidents. Apart from this, a private shuttle system is provided for the student for safe and comfortable to and from movement from their nearby schools. Everything is within your reach in Fortune Hills with your school and your workplace being near your home.

They are a lot of landmarks to identify the Fortune Hills; it is 1.9 km away from Xavier School and 1.7 km away from the immaculate concept academy. It is 1.1 km from Greenhill west and 2.5 km from Greenhill East. The Cardinal Santos Medical Center is just a stone throw away from Fortune Hills with it being just 1.5 km away from the place. It is 3.6 km from Poveda learning center and 2.9 km away from La Salle Greenhills. There are also a lot of fun faceted amenities like Wack Wack Country Club which is 1.5 km away from Fortune Hill and the SM Megamall being just 3.5 km away. Other amenities includes the Shangri-La Plaza that is 3.1 km from Fortune Hill and EDSA Megamall which is also just 3.5 km.

What are the characters of a real life, to me a good life is all about stability? A stable life is a real life. It is a life where you will be able to spend a lot of time to nurture your whole family, nourish your soul and be able to build your overall wealth. One day spent with your loved ones can change one's life. Imagine was living in a place where you have peace of mind, you can be able to save a lot of valuable time and energy. The site is specifically built to bring you safety, space, relaxation and beauty. Enjoy your beautiful residents with peace and quiet with the ultimate gift of the safety of life and property. With all these advantages, there is no better place for you and your family than the Fortune Hill.
Popular Links
Fortune Hill
Fortune Hill Location
Fortune Hill For Rental Units
Fortune Hill Resale Units
Fortune Hill Pre-Selling Units
Fortune Hill Showroom
Fortune Hill Amenities
Fortune Hill Price
Fortune Hill Contact