Fortis Residences - Preselling Condominium
Premium project of DMCI in Chino Roces Makati Metro Manila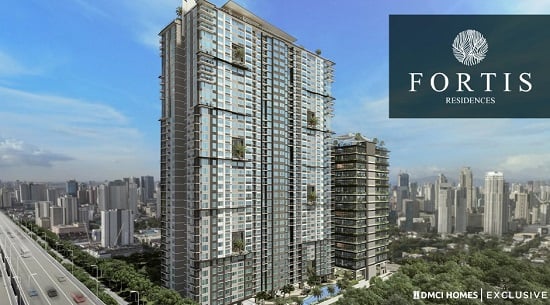 Project Type : Condominium
Listing Type : Preselling
Developer Name : DMCI
Units : 1 BR, 2 BR, 3 BR
Price: ₱ 13,800,000 & Up
Address : Chino Roces Avenue, Makati City
Location : Makati , Metro Manila PH Fortis Residences DMCI Fortis Residences Fortis Residences DMCI Fortis Residences Makati
https://www.fortisresidencesmakati.com
Fortis Residences Makati is DMCI Homes' newest condo residential development in Makati City. It is a garden paradise of a home with many engineering feats you never imagined existed in Makati. Fortis Residences is your new home amid dazzling and fast-paced city life. Fortis is DMCI Homes' latest high-rise condominium development in Makati City featuring all the essences of life and the grandeur and functionality of DMCI Homes' signature development. The single tower is a modern contemporary building sitting on a 7,200sqm of prime land in Chino Roces Avenue, Makati City.
Fortis Residences is a resort-inspired condominium development with 36 floors of spacious residential units. The Fortis Residences is a garden paradise of a home with breezeways, atriums, a sky deck pool, and a sky promenade. Families, young professionals, partners, and even retirees will enjoy the privilege of large spaces seldom offered in other condo developments in Metro Manila. The project has 24-hour security with CCTV cameras scattered in the perimeter to make residents and guests safe any time of the day. The units are also a great investment in giving you passive income every month. Just contact management for details.
Fortis Residences offers one-bedroom, two-bedroom, and three-bedroom units to satisfy the needs of every investor and unit owner. Each unit is equipped with safety measures like fire alarms and automatic sprinkler systems. The units come in sizes ranging from 55.50sqm to 152.50sqm. Selected units have a balcony with 2-3 T&B, a utility area, and a storage room. Each unit has a high ceiling and enjoys the privilege of DMCI Homes' LDT features, as well as the whole tower.
Fortis Residences makes use of DMCI Homes' proprietary LDT (Lumiventt Design Technology) features. The state-of-the-art design is an innovative engineering that enables natural light and fresh air to diffuse through the condo building and all its unit spaces. The effects give residents & guest's positive vibes on their health. The design features sky patios, breezeways, and vents on both sides of the building. The innovation highlights 3-story high openings at the front and back of the tower. All these feature work together to create cross-ventilation using the basic principles of airflow. The integration of fresh air and natural lights into every unit is really an engineering wonder for high-rise developments!
DMCI Homes designed the Fortis Residences with a single-loaded corridor (SLC) carrying the company's condo unit design. The SLC features spacious hallways, not cramped by other units across your unit. Instead of a wall or another door, the structure has an open-air atrium with a garden view or a garden itself. Fortis Residences also has central garden atriums and single-loaded hallways, enhancing the open feel of the interiors. At Fortis Residences, it is really a matter of living clean and healthy, with lots of gardens and spaces!
Fortis Residences DMCI For Sale Price List

| Unit Name | Project Name | Developer | Price (₱) | Location |
| --- | --- | --- | --- | --- |
| 1 Bedroom | Fortis Residences | DMCI | 13,800,000 | Chino Roces in Makati, Metro Manila |
| 2 Bedroom | Fortis Residences | DMCI | 18,000,000 | Chino Roces in Makati, Metro Manila |
| 3 Bedroom | Fortis Residences | DMCI | 33,600,000 | Chino Roces in Makati, Metro Manila |