Raya Garden - Ready For Occupancy Condominium
Premium project of DMCI in Merville Paranaque Metro Manila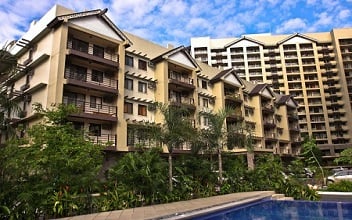 Project Type : Condominium
Listing Type : Ready For Occupancy
Developer Name : DMCI
Units : Studio Unit, 2BR, 3BR.
Price: ₱ 1,600,000 & Up
Address : West Service Road,
Location : Paranaque , Metro Manila PH Raya Garden DMCI Raya Garden Raya Garden DMCI Raya Garden Paranaque
https://rayagarden.phproperty.com
The Raya Garden in Parañaque City is another DMCI Homes' innovative residential development south of Manila that features diverse residential units and stunning Contemporary Asian-themed architecture. The Balinese-inspired design of residential units at the Raya is quite unique which is blended with modern aesthetics as well as the design of the buildings' facade which are never-before-seen in the country. This master-planned community in the heart of Parañaque City is settled in a 19,305sqm of prime property.
The 5 residential towers are a mixture of medium and high-rise buildings which is a good idea. Do you know why? The combination of this different tower heights is not unusual after all. You see, different people have different height reference when it comes to their shelter. Some don't like to live in a high-rise and some are the opposite. Moreover, retirees will surely enjoy a unit at the Raya Garden Parañaque City, especially the medium-rise ones. The 5 buildings are aptly named Surabaya (17 floors including the 2-level basement parking), Jakarta (16 floors, including 1-level parking); and the medium-rise Bali, Bandung, and Bogor (all have 6 floors with 1-level parking).
The wide array of amenities and practice facilities are some of the features to behold in the Raya Garden. With a world-class developer and the number one real estate builder in the Philippines and as the DMCI Homes in the helm, nothing is really impossible in a vertical development that has it all. With more than 38 types of amenities, services, and building features; the Raya Garden is a classic home on its own. Furthermore, this condo community for sale in Parañaque City is a place that has so much charm and potential, those who have already placed their reservation are sure to make the most out of a genuine and quality home south of the metropolis.

Popular Links
Raya Garden
Raya Garden Location
Raya Garden For Rental Units
Raya Garden Resale Units
Raya Garden Pre-Selling Units
Raya Garden Showroom
Raya Garden Amenities
Raya Garden Price
Raya Garden Contact
Raya Garden DMCI For Sale Price List

| Unit Name | Project Name | Developer | Price (₱) | Location |
| --- | --- | --- | --- | --- |
| Studio Unit | Raya Garden | DMCI | 1,613,000 | Paranaque, Metro Manila |
| 2 Bedroom | Raya Garden | DMCI | 2,423,600 | Paranaque, Metro Manila |
| 3 Bedroom | Raya Garden | DMCI | 3,696,500 | Paranaque, Metro Manila |