One Tandang Sora Place - Preselling Condominium
Premium project of Axeia in Culiat Quezon City Metro Manila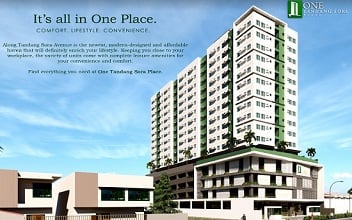 Project Type : Condominium
Listing Type : Preselling
Developer Name : Axeia
Units : Studio Unit,1 BR, 2BR
Price: ₱ 2,700,000 & Up
Address : 353 Tandang Sora Ave
Location : Quezon City , Metro Manila PH One Tandang Sora Place Axeia One Tandang Sora Place One Tandang Sora Place Axeia One Tandang Sora Place Quezon City
https://www.onetandangsoraplace.com/
Rising amidst the new normal times is the latest project from AXEIA, a reputable developer whose projects are mostly in the South. One Tandang Sora Place surely will capture the interests of many – be it a young, single professional, a couple starting their own family or maybe some retirees or early nesters who want to experience condo living. Surely, this modern property will answer all your longings for a safe haven and a comfortable sanctuary.
It is a wise investment with the condominium property suitably located in the heart of Quezon City. This area is a booming economy so it will appreciate in the years to come. This place is so accessible and convenient to many offices (both government and private), BPOs, malls, shopping centers, restaurants, schools and universities, churches, hospitals and nature parks. Did we forget anything? More developments to fulfill the lifestyle demands in the future are to be raved about.
If there's an option for you to live in this part of the metro which is Quezon City – choose to stay and live at One Tandang Sora Place. With its facilities and amenities, you're assured of a balanced lifestyle that's enough to keep up with the pace of daily pressures. Here, we like you to relax in your own home – comfortable, stylish, convenient and modern while you are safely and happily tucked with your loved ones.
This is a portion of the city that's anticipated to bloom and flourish.
Popular Links
One Tandang Sora Place
One Tandang Sora Place Location
One Tandang Sora Place Rental Units
One Tandang Sora Place Resale Units
One Tandang Sora Place Pre-Selling Units
One Tandang Sora Place Showroom
One Tandang Sora Place Amenities
One Tandang Sora Place Price
One Tandang Sora Place Contact

One Tandang Sora Place Axeia For Sale Price List

| Unit Name | Project Name | Developer | Price (₱) | Location |
| --- | --- | --- | --- | --- |
| Studio Unit | One Tandang Sora Place | Axeia | 2,700,000 | Quezon City, Metro Manila |
| 1 Bedroom | One Tandang Sora Place | Axeia | 5,000,000 | Quezon City, Metro Manila |
| 2 Bedroom | One Tandang Sora Place | Axeia | 6,300,000 | Quezon City, Metro Manila |