Parklinks North Tower - Preselling Condominium
Premium project of Ayala Land in Ugong Norte Quezon City Metro Manila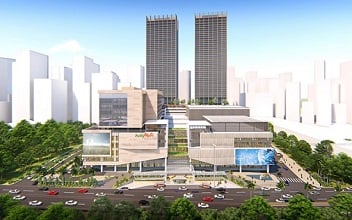 Project Type : Condominium
Listing Type : Preselling
Developer Name : Ayala Land
Units : 1 BR, 2 BR, 3 BR, 4 BR
Price: ₱ 0 & Up
Address : E. Rodriguez Jr. Avenue, Brgy. Ugong Norte, Quezon City
Location : Quezon City , Metro Manila PH Parklinks North Tower Ayala Land Parklinks North Tower Parklinks North Tower Ayala Land Parklinks North Tower Quezon City
https://www.parklinksnorthtowerqc.com/
The Parklinks North Tower Quezon City is not just a condo community at the heart of Quezon City; it is also a haven for green and peaceful living. The Parklinks North Tower is a 55-story high-rise condominium development along E. Rodriguez Ave. Quezon City, brought to you by Ayala Land, in partnership with Alveo Land.

The North Tower will be part of the 35-hectare Ayala Parklinks mixed-use development which in turn is a joint development between Ayala Land and Eton Properties, two of the Philippines' leading property developers. The Parklinks will be Ayala Land's biggest and greenest urban development in Metro Manila, which will include a mall, four parks, residential and office towers, and lush open spaces. The Parklinks North Tower will have 280 residential units ranging from One- to four-bedroom suites with floor areas that range between 70 and 306sqm.

The North Tower is touted to be the next iconic landmark along E. Rodriguez Avenue with features not present with other residential developments in the country. The tower will provide panoramic views of the skylines of Metro Manila and the magnificent bird's-eye views of the river. Experience the thrills and amusement of having a residence near parks and open spaces where you can jog, bike, and promenade in peace.

The Parklinks North Tower Quezon City offers a brand new type of living in the metro where you and the family live in harmony with nature amidst a busy environment. That's not all! The project's wholesome and lifestyle-changing amenities will surely provide the needed respite for future residents who are seeking a good life in the metro.

Feel the wonders of Parklinks North Tower where you could have full access to the River Esplanade and all the parks, amenities, and facilities of the Ayala Parklinks. The panoramic living spaces and connecting lifestyles at Parklinks are the best things to happen. But most of all, you invest in a good life for your family!

Popular Links
Parklinks North Tower
Parklinks North Tower Location
Parklinks North Tower For Rental Units
Parklinks North Tower Resale Units
Parklinks North Tower Pre-Selling Units
Parklinks North Tower Showroom
Parklinks North Tower Amenities
Parklinks North Tower Price
Parklinks North Tower Contact
Parklinks North Tower Ayala Land For Sale Price List

| Unit Name | Project Name | Developer | Price (₱) | Location |
| --- | --- | --- | --- | --- |
| 1 Bedroom Classic | Parklinks North Tower | Ayala Land | 0 | Quezon City, Metro Manila |
| 2 Bedroom Classic | Parklinks North Tower | Ayala Land | 0 | Quezon City, Metro Manila |
| 2 Bedroom Corner | Parklinks North Tower | Ayala Land | 0 | Quezon City, Metro Manila |
| 2 Bedroom Horizon Suite | Parklinks North Tower | Ayala Land | 0 | Quezon City, Metro Manila |
| 3 Bedroom Corner | Parklinks North Tower | Ayala Land | 0 | Quezon City, Metro Manila |
| 3 Bedroom Horizon Suite | Parklinks North Tower | Ayala Land | 0 | Quezon City, Metro Manila |
| 3 Bedroom Grand Horizon Suite | Parklinks North Tower | Ayala Land | 0 | Quezon City, Metro Manila |
| 3 Bedroom Horizon Terrace Suite | Parklinks North Tower | Ayala Land | 0 | Quezon City, Metro Manila |
| 3 Bedroom Horizon Villa | Parklinks North Tower | Ayala Land | 0 | Quezon City, Metro Manila |
| 3 Bedroom East Sky Suite | Parklinks North Tower | Ayala Land | 0 | Quezon City, Metro Manila |
| 3 Bedroom West Sky Suite | Parklinks North Tower | Ayala Land | 0 | Quezon City, Metro Manila |
| 4 Bedroom Sky Villa | Parklinks North Tower | Ayala Land | 0 | Quezon City, Metro Manila |