Camella Avisea - Ready For Occupancy House & Lot
Premium project of Camella in Bignay Caloocan Metro Manila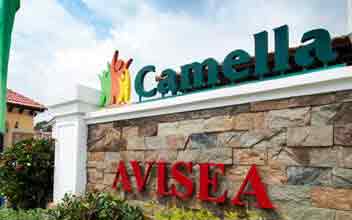 Project Type : House & Lot
Listing Type : Ready For Occupancy
Developer Name : Camella
Units : House and Lot
Price: ₱ 2,284,000 & Up
Address : Bignay,
Location : Caloocan , Metro Manila PH Camella Avisea Camella Camella Avisea Camella Avisea Camella Camella Avisea Caloocan
https://camellaavisea.phproperty.com/
There are many luxurious places that would offer you homes around this locality but there is only one that offers you a chance to own a dream home in a standard budget and that to with all the modern facilities that any builder can offer you.

The Camella Avisea located in the Bignay; Caloocan is a great opportunity to own your own home without having to spend much. The developers believe in the form of community living and are adamant in providing quality home to families.

If you are looking for a comfortable place to stay in then here are the details that would help you make the best decision of your life. The community provides a safe and secure environment for your kids and loved ones. Camella Avisea was envisioned to be a haven for families, and may very well be the perfect dream home for you.

There are two models of homes available for residents to choose from one is a single attached double story house with 40 square meter floor area and the other with a two bedroom house with a slightly bigger floor area. The house size can be chosen as per the need of the resident.

The most important questions asked by most of the people looking for a house are about the amenities that are available and also the highlights of the property itself. Camella Avisea has all the same amenities like all other Camella properties like clubhouse, swimming pool, parks and playgrounds.

There are different thing that an individual might need depending on their needs if you are looking for churches then the Our Lady of Lourdes Parish and Divine Mercy Academy are the perfect place to visit. On the other hand if you are shopping buff then malls like Zabarte Mall and SM Fairview are only a few minutes away from the estate.

If you are wondering about the medical facilities, and their availability in the area then hospitals like San Lorenzo Clinic and St. Blaise Clinic are a few minutes' drive from the location. Transportation and other essentials are also taken care of at the Camella Avisea.
Popular Links

Camella Avisea
Camella Avisea Location
Camella Avisea For Rental Units
Camella Avisea Resale Units
Camella Avisea Pre-Selling Units
Camella Avisea Showroom
Camella Avisea Amenities
Camella Avisea Price
Camella Avisea Contact