Haraya Residences - Preselling Condominium
Premium project of Robinsons Land in Bridgetowne East Pasig Metro Manila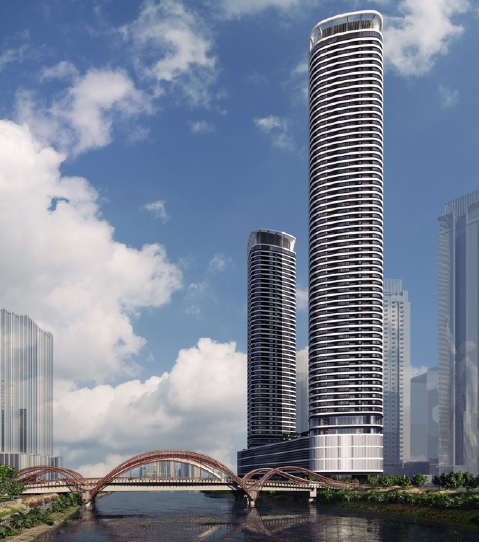 Project Type : Condominium
Listing Type : Preselling
Developer Name : Robinsons Land
Units : 1 BR, 2 BR, 3 BR
Price: ₱ 17,800,000 & Up
Address : Bridgetowne Estate
Location : Pasig , Metro Manila PH Haraya Residences Robinsons Land Haraya Residences Haraya Residences Robinsons Land Haraya Residences Pasig
https://www.harayapasig.com
Haraya Residences at Bridgetowne Estate Pasig is a joint venture between Robinsons Land Corporation (RLC) and Shang Properties, Inc. Together they formed the Shang Robinsons Properties, Inc. (SRPI) and unveiled the Haraya Residences at the Bridgetowne Estate Pasig, a 31-hectare mixed-use community at the heart of Pasig City. Robinsons Land Corporation (RLC) introduces the Haraya Residences Pasig with a bang! It is the company's first premium high-rise property to rise in Pasig City, one of the busiest cities in Metro Manila.
Haraya Residences is a two-tower (with 53 floors each tower) residential condominium project catering to some of Metro Manila's elite and leisure seekers. The Bridgetowne is a 31-hectare master-planned mixed-use community owned and developed by Robinsons Land Corporation. The upscale condo community of Haraya Residences will be a 2-tower development inside the Bridgetowne estate. The first tower (South Tower) is launched in February this year (2023) and will house 558 condo units in varying sizes (one-bedroom, two-bedroom, and three-bedroom, including penthouse units). The North Tower offers more units soon.
Haraya Residences is a low-density residence; the two towers will only have ten units on a floor for exclusivity and privacy. Haraya is an old Filipino, which means 'imagination', RLC holds its "mission sacred, which is to envision new possibilities for homeowners, introduce meaningful innovation, and develop inventive spatial configurations that provide comfort, freedom, and inspiration," said SRPI Executive Vice-President Jose Juan Z. Jugo at the Feb. 15 media launch.
Haraya Residences give residents and guests soaring views from their units. The units come in One-bedroom, Two-bedroom, Three-bedroom, and Penthouse units: lounge in the lofty Italian-inspired loggias that redefine the experience of home living. Rediscover a sense of freedom and vibrancy among the lush private landscapes and world-class amenities right at your own home.
Haraya Residences is part of RLC's Bridgetowne Township brought to you by the Shang Robinsons Properties, Inc. It is one of the residential condominium towers that will add about 2,000 residential units to Bridgetowne. Bridgetowne borders two megacities in Metro Manila: Quezon City and Pasig City. The Bridgetowne estate is a mixed-used community offering other residential condos, like the 40-story Cirrus Residences and the 50-story Le Pont Residences.
Haraya Residences condo towers cater to employees of business process outsourcing (BPO) companies that will operate within the township. Haraya Residences will have 2,270sqm of indoor amenities including a movie room, a library, function rooms, a private dining room, a game room, a playroom, a gym, and a lounge with a view of the skyline, and a lot more!
Haraya Residences is a residential haven that will transform normal urban living into something very special. "We want to be a landmark project that improves the way people live," Mr. Jugo said. SRPI is targeting young urban professionals that want to upgrade their lifestyle.
Haraya Residences Robinsons Land For Sale Price List

| Unit Name | Project Name | Developer | Price (₱) | Location |
| --- | --- | --- | --- | --- |
| 1 Bedroom | Haraya Residences | Robinsons Land | 17,800,000 | Pasig, Metro Manila |
| 2 Bedroom | Haraya Residences | Robinsons Land | 32,700,000 | Pasig, Metro Manila |
| 3 Bedroom | Haraya Residences | Robinsons Land | 56,000,000 | Pasig, Metro Manila |