Le Pont Residences - Preselling Condominium
Premium project of Robinsons Land in Bridgetowne East Pasig Metro Manila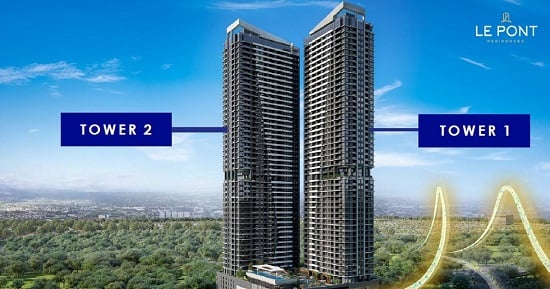 Project Type : Condominium
Listing Type : Preselling
Developer Name : Robinsons Land
Units : 1 BR, 2 BR, 3 BR
Price: ₱ 14,900,000 & Up
Address : North Drive corner Central Avenue
Location : Pasig , Metro Manila PH Le Pont Residences Robinsons Land Le Pont Residences Le Pont Residences Robinsons Land Le Pont Residences Pasig
https://www.lepontpasig.com
Le Pont Residences at Bridgetowne Pasig is a unique enclave that satisfies your cravings for more intimate living in a megacity like Pasig. The top-notch residence lies in a 31-hectare master-planned destination estate called Bridgetowne. Both properties are owned, developed, and managed by Robinsons Land Corporation (RLC). Le Pont is a 50-story high-rise residential condominium development in the heart of Pasig City. It is the first premium condo development of RLC that caters to the luxury market as it targets more affluent investors and homeowners.
Le Pont Residences is part of RLC's Bridgetowne Township and one of the residential condominium towers that will add about 2,000 residential units to it. Bridgetowne borders two mega cities in Metro Manila: Quezon City and Pasig City. The Bridgetowne estate is a mixed-used community offering other residential condos, like the 40-story Cirrus Residences. This condo tower caters to employees of business process outsourcing (BPO) companies that will operate within the township. The Le Pont Residences, on the other hand, is for more well-off clients or entrepreneurs wanting to live next to their livelihood or near everything.
Le Pont Residences Pasig is an ideal reprieve for these business-minded investors where they can hire their neighbors for their businesses. The Le Pont features some of the biggest residential units in Metro Manila and probably the rest of the country. It offers one-bedroom, two-bedroom, three-bedroom, and four-bedroom units in Low, Mid, Hugh, and Penthouse Zones (Bi-level). All units have a balcony, while selected units have two to four balconies.
Le Pont Residences have easy access through C-5, Ortigas Avenue, and Amang Rodriguez Avenue. Experience living the live-work-play lifestyle in Le Pont: It is a worthy investment location, as the condo tower is surrounded by first-class subdivisions and establishments: a full-scale prime shopping mall; premium-grade office buildings; and a 5-star hotel.
Le Pont Residences Robinsons Land For Sale Price List

| Unit Name | Project Name | Developer | Price (₱) | Location |
| --- | --- | --- | --- | --- |
| 1 Bedroom | Le Pont Residences | Robinsons Land | 14,900,000 | Pasig, Metro Manila |
| 2 Bedroom | Le Pont Residences | Robinsons Land | 32,300,000 | Pasig, Metro Manila |
| 3 Bedroom | Le Pont Residences | Robinsons Land | 47,700,000 | Pasig, Metro Manila |