The Velaris Residences - Preselling Condominium
Premium project of Robinsons Land in Bridgetowne East Pasig Metro Manila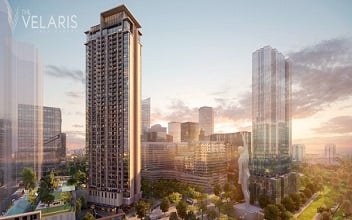 Project Type : Condominium
Listing Type : Preselling
Developer Name : Robinsons Land
Units : 1 BR. 2 BR, 3BR
Price: ₱ 10,800,000 & Up
Address : Bridgetowne, Pasig City
Location : Pasig , Metro Manila PH The Velaris Residences Robinsons Land The Velaris Residences The Velaris Residences Robinsons Land The Velaris Residences Pasig
https://www.velarisresidences.com/
The Velaris Residences Pasig is now the iconic landmark that adorns the landscape and skyline of Pasig City. This 45-story tall residential condo inside the Robinsons Land's Bridgetowne East is the latest project of Robinsons Land Corporation (RLC) and the Hong Kong Land Group (HKLG) at the prestigious mixed-use township. Feel the breeze of this part of Pasig City where a new bridge was constructed and inaugurated in 2019 to link two cities: Quezon City and Pasig City.

The Velaris Residences is a resort-inspired condo community in the heart of Pasig City that is just a beat away from the illustrious Ortigas Center, the Philippines' premier central business district that could rival Makati. The Velaris is located inside Robinsons Land Bridgetowne East and forms part of a multi-billion peso mixed-used development that will put Pasig into the economic spotlight. The Velaris offers some of the most diverse units in the industry that include One-bedroom, Two-bedroom, Three-bedroom, and Penthouse Units that feature balconies and terraces for selected units.

Unlike any other high-end development in Metro Manila, the Velaris Residences Pasig's unique and adorable units have larger sizes and layouts that range in sizes from 46 to 323.50sqm in various designs. These units cater to the dynamic professionals, young couples, and upgrading and growing families that want to experience how to live in a place where everything is at arms' reach. The Velaris Residences is a terrific venue to live a life full of joy and happiness while providing for the family.

At the Velaris Residences Pasig City, RLC put its philosophy of Intentional Design into practice. By this, you experience the aesthetics and other elements of the design as the company wants it to be. Fortunately, at the Velaris Residences Pasig, you experience unforgettable and extraordinary living every day.
The Velaris Residences Robinsons Land For Sale Price List

| Unit Name | Project Name | Developer | Price (₱) | Location |
| --- | --- | --- | --- | --- |
| 1 Bedroom Executive | The Velaris Residences | Robinsons Land | 10,800,000 | Pasig, Metro Manila |
| 1 Bedroom Deluxe | The Velaris Residences | Robinsons Land | 12,600,000 | Pasig, Metro Manila |
| 1 Bedroom Premium | The Velaris Residences | Robinsons Land | 14,100,000 | Pasig, Metro Manila |
| 2 Bedroom | The Velaris Residences | Robinsons Land | 27,400,000 | Pasig, Metro Manila |
| 3 Bedroom | The Velaris Residences | Robinsons Land | 41,500,000 | Pasig, Metro Manila |