Mezza ll Residences - Ready For Occupancy Condominium
Premium project of SMDC in Sta Mesa Quezon City Metro Manila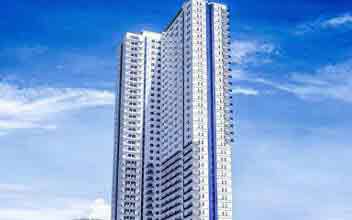 Project Type : Condominium
Listing Type : Ready For Occupancy
Developer Name : SMDC
Units : 1 BR
Price: ₱ 7,840,000 & Up
Address : Aurora Boulevard corner Guirayan Street, Quezon City
Location : Quezon City , Metro Manila PH Mezza ll Residences SMDC Mezza ll Residences Mezza ll Residences SMDC Mezza ll Residences Quezon City
https://mezzaresidences.phproperty.com/
Mezza II Residences: The High Life at the Mezza Strip

Built in the heart of Sta. Messa, Mezza II Residences, is a high rise building offering the skylines of Metro Manila to its residents. With luxurious deigns aesthetics, this is the place to enjoy the high life you have worked so hard to earn. Resort style amenities, glamorous views and a trendy vibe, this is the place to be for all the young hot shots. With the University belt being located so close, this also a perfect place for parents of university students. Right in the middle of the bustling city SMDC's latest project towers high above it all, a cocoon unto itself. This is a place truly worth investing in! If you want to know why keep reading.


Quality at its Finest

Mezza II Residences, is a towering building spread over 2, 592 sqm, in the heart of Sta. Messa. A single tower that is forty storeys high, our future residents will be enjoying the high life quite literally. The building façade is truly unique, and represents the classic SMDC architecture. With sophisticated classic architectural finishing that adorns the tower, the future residents are bound to feel awed. Modern as well as classic design ideas have been implemented throughout the project, to make it the perfect high rise. The resort style amenities and top notch location, allows our future residents to receive nothing but the best. The architecture and the interior designs include modern and yet traditional clean lines, with top notch furnishings which give an overall beautiful and luxurious vibe. The trademark SMDC perfection is on full display here, as you find yourself surrounded in sophisticated and luxurious interiors. From the building façade to the interiors in the grand lobby, every detail has been carefully thought of and designed and is aimed to impress. Mezza II Residences is the only place where you will you find a house for you and your family, which is beautiful and also quality home, in the heart of the city. This is the address you really should invest in.

A place you can proudly call your own.


Beautiful Interiors

The aim here at the Mezza II Residences, is to give its future residents a quality luxurious high lifestyle. Keeping this in mind, SMDC has included urban and modern design aesthetics to its interior design theme for Mezza II Residences. The grand lobbies, amenity lobbies and lounges, are furnished with dark textured walls, with vibrant velvety fabrics for sofas and drapes, giving it a very classic chic look. A lot of modern light fixtures and unique art pieces adorn the lobbies, giving you a five star resort vibe. The common areas, are tastefully designed with lots of classic flourishes mixed in with the modern elements, which makes the interior warm and simultaneously luxurious as well.

The apartments range from 15 sqm to 38 sqm in size with the option of either one or two bedrooms, along with the option of a balcony overlooking the gorgeous city skyline, or a seventh floor garden. The kitchen in every apartment is furnished with customised light wood panelled cabinets and granite countertops, giving it a very clean and sophisticated look. All the kitchens are also furnished with cooktops and range hoods. The walls of the house are furnished with simple coat of pale paints, to give you a durable canvas, which you can personalise based on your needs. The sinks in the kitchens and toilet fixtures have a sleek stainless steel finish whereas the sinks in the toilets have a white ceramic finish, all of which gives your home a very modern and sophisticated design appeal. The floors in the kitchen, toilet and balcony have waterproof finish, giving you lasting beauty with good quality and great durability. All the apartments are very well lit with trendy light fixtures that are classy and chic. Windows are made of tempered glass, making them shatter proof and very good at absorbing sounds.

The interiors, have been carefully thought of and personalised to provide our future residents a very luxurious yet comfortable ambience. With the trademark SMDC level of quality, the future residents can be rest assured that not only is your home designed beautifully from the inside but it can also be maintained easily and is self-sustaining for a long time. From the apartments to each of the common rooms, every minute detail has been put through the SMDC treatment, giving you only the best of the best.


Additional Amenities

Five star resort style facilities are available for all the future residents. A nice soak is recommended after a tiring day at work, in one of the two swimming pools provided. A kiddie pool is also available for the kids just learning to swim. Pool decks with comfortable chaises surround the pools, for that perfect lazy summer afternoon. At the 7th floor, you will find ample opportunities for leisure and relaxation. From gardens to gazeebos, lawns and landscaped gardens, this is your piece of pristine nature amidst the city centre. A playground as well as a picnic area make it an ideal place for your family. A calm nurturing ambience amidst the hustle and bustle of the city.

For health buffs and athletes, there is a Fitness Gym equipped with the best along with professionally trained instructors to guide you. An outdoor barbeque Area and an outdoor function area, are also available for any special occasion. An M-Bar is present, giving you and your friends a place to socialise after work. There is also a Sky lounge located at the top floor of the building giving a stunning view the Metro Manila skyline, as you relax after a long tiring day at work. A function hall is also available to you at the Sky Lounge, making those special occasions extra special.

Common areas are WIFI enabled as well so you can keep track of all the important events online. Chambermaid facilities are available for housekeeping and maintenance. Also available is a 24/7 reception and intercom system. There is a mail room available right next to the reception for the convenience of the residents.

There is also a backup power system and a backup water supply to save our residents from any distress. A central garbage disposal system is also present to maintain the cleanliness in the residences. Five high speed elevators make sure that all commute up and down the floor is seamless. All the areas are wheel chair accessible and caters to the needs to physically challenged individuals. Aside from these, there are also a series of retail shops, grocery stores and cafes, located in the commercial area on the ground floor of the complex, to make our future residents and their families comfortable and allow them to lead a stress free life. An amazing team of property management service provides are available at all times, to help the residents and to make their and their family's lives a five-star quality life. The team is responsible for continuous and complete upkeep and maintenance of the amenities.

Now you can settle into your high life without a care in the world.

Top- Notch Security
Here at Mezza II Residences, we firmly believe that the safety of our future residents and their families is of utmost importance and it is or duty to keep each and every one of them out of any harm's way. Bearing this in mind, trained and armed security personnel are on guard across all the strategic points of the residency 24/7 to keep the complex and its residents secure. The residences are installed with CCTV cameras, which are scattered all around the property. This is aimed at keeping a look-out for any and all suspicious activities or objects. So any threat can be quickly identified and investigated.

In case of an unlikely event of fire, there are automated fire detection systems as well as alarms along with automated sprinkler systems, installed throughout all common areas and in each and every condominium. The fire alarms are also linked to the nearest fire station to call them in at a moment's notice. There are fire extinguishers fitted in every lobby, hallway, common room and apartment for any and all cases of emergency. All of these systems are regularly maintained, checked and calibrated by a team of professionals. All of SMDC projects, follow strict safety guidelines when it comes to their buildings, and Mezza II Residences is exactly the same. There are well marked, adequately lit and safely designed hallways and stairs that are to be used during emergencies. Staircases are wide enough for safe passage for all residents and lead to open clear spaces. Also each and every one of the exit doors are all well marked and well-lit. The team of staff present at the residences are all well versed in emergency guidelines and will be available to guide all residents to safety, without any panic and in a calm manner.


Location is key
Combined with the luxury and its top class amenities, Mezza II Residences boasts of accessibility and convenience by being near to the LRT 2 V. Mapa Station and in the neighbourhood of the mall of the area, SM City Sta. Mesa. Mezza II Residences is located along Aurora Boulevard corner Guirayan Street, located in Brgy. Doña Imelda, Quezon City. It is near by a lot of educational institutions such as Central Colleges of Manila and other top universities in the University Belt. It is also just a few minutes' walk away in SM Sta. Mesa where you can easily do your shopping. It is very close to LRT 2 V. Mapa Station; therefore giving you great access to gateway destinations like the Manila area, San Juan or Quezon City as they are just a train away. It has hospitals like UERM Memorial Medical Centre, located nearby. House of prayer like St. Jude Church is also near this place. You can easily find convenience and accessibility to everything in one place here at Mezza II Residence. Mezza Strip alongside the building also offers a variety of choices in retail shops and casual restaurants. Banks and Supermarket are just right to your doorsteps. You are surrounded by different avenues of entertainment and fun. Now you can enjoy a quality nightlife, after a long tiring week at work. Satisfy your taste buds by going on gastronomic adventures, by vising one of the many dining establishments present nearby. Now the high life you and your family want to lead is not only luxurious, but also convenient and easily accessible.


The High Life awaits
This is the investment into your future worth making, and is definitely bound to give you returns for years to come. Being part of a city central, gives you the front row seats to development and progress, making you a part of the country's financial development. This the best place for those who are looking for that quintessential high life. Built in the heart of Sta. Messa, Mezza II Residences, is a towering building offering its residents the beautiful skylines of Metro Manila as its view. The building façade is truly unique and beautiful, and represents the trademark SMDC architecture and style. Mezza II Residences is the only place where you will you find a house for you and your family, which is beautiful and also quality home, in the heart of the city. Five star resort style facilities are available for all the future residents. With top of the line security protocols to keep you and your family out of harm's way. The high life that you and your family have wanted to lead is not only luxurious, but also convenient and easily accessible. A home that is designed beautifully from the inside as well as the out and can also be maintained easily and is self-sustaining for a long time. A perfect place for you and your aspirations to take flight. A perfect oasis for you and your family in the middle of the hustle and bustle of the city.

A lifestyle choice that is worth your investment.

Popular Links
Mezza ll Residences
Mezza ll Residences Location
Mezza ll Residences For Rental Units
Mezza ll Residences Resale Units
Mezza ll Residences Pre-Selling Units
Mezza ll Residences Showroom
Mezza ll Residences Amenities
Mezza ll Residences Price
Mezza ll Residences Contact
Mezza ll Residences SMDC For Sale Price List

| Unit Name | Project Name | Developer | Price (₱) | Location |
| --- | --- | --- | --- | --- |
| 1 Bedroom End Unit + Garden | Mezza ll Residences | SMDC | 7,840,000 | Quezon City, Metro Manila |